University of New Mexico officials hope to modernize The Pit while maintaining its old-school character.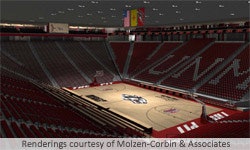 One of college basketball's most revered venues - The Pit - is undergoing a $60 million renovation, its most comprehensive since the facility first opened on the University of New Mexico campus in 1966. Despite the fact that UNM lacks the hoops profile of, say, Duke, North Carolina or UCLA, The Pit has routinely ranked among the top 10 Division I schools in overall fan attendance, averaging more than 15,000 fans and 95 percent capacity since its opening. And those fans are loud; decibel levels have been measured at 118 during Lobos games (physical pain begins at approximately 125 decibels).
For those responsible for the renovation, there's naturally going to be some trepidation when you're messing with that much cachet. "The scary part for me, personally, is this building has really stood the test of time for 43 years," UNM senior associate athletic director Tim Cass told the Albuquerque Journal in May. "Part of the onus on me is that it stands the test of time for another 43 years."
In an effort to modernize the venue - which in 1999 was ranked 13th in Sports Illustrated's list of "Top 20 Sporting Venues of the 20th Century" - the project includes the addition of 40 luxury suites and 300 club seats, state-of-the-art locker rooms, new scoreboards, an expanded concourse, new restrooms and concessions areas, and a dramatic main entrance highlighted by large expanses of glass. Albuquerque-based Molzen-Corbin & Associates and Denver-based Sink Combs Dethlefs led the design.
The Lobo athletic department assures fans that the facility's character will not be lost in the improvements. "It will be that sunken cauldron of emotion surrounding the hostile Bob King Court that the enemy has to reach by running down a steep ramp that takes them smack dab into the middle of all that Lobo love," senior writer Richard Stevens wrote at www.golobos.com.
More Facilities News
| | |
| --- | --- |
| | During the groundbreaking ceremony for the 24,300-square-foot Meek Aquatics and Recreation Center, officials at Ohio Wesleyan University used an auger to demonstrate how more than 90 geothermal wells will be created to produce energy to heat and cool the building, and heat the water in the 10-lane, 25-yard pool. Situated on an 8.5-acre site on the southwest edge of the Battling Bishops' campus, the approximately $10 million center will include a 13-foot diving well, 1- and 3-meter diving boards, offices and a multipurpose seminar room. Designed by Toledo, Ohio-based The Collaborative Inc., the center is expected to open in fall 2010. |
| | The Collaborative Inc. also led the design of the Alma (Mich.) College arena and convocation center, for which ground was broken in May. The $12.65 million project includes a 29,000-square-foot addition to the college's main indoor athletics building, the Hogan Center, as well as renovations to locker rooms, an athletic training suite, a natatorium, coaches' offices and classrooms. Sustainable strategies include the use of recycled content, light-pollution reduction, water-efficient landscaping and a reflective roof system. The new arena will feature seating for 2,430 spectators and a center-hung scoreboard, and will be augmented by a 6,600-square-foot lobby. The facility is expected to open in August 2010. |
| | Although $40 million has yet to be raised for the approximately $132 million project (which will also add a new student center and a parking facility to the St. Paul, Minn., campus), work has begun on the University of St. Thomas' $52 million Anderson Athletic and Recreation Complex. The 180,000-square-foot complex will feature an aquatics center with a 25-yard pool and seating for 250 spectators, a new athletic arena with seating for 2,000 that will be the home court for the Tommie basketball and volleyball teams, and cardiovascular and weight training areas for both athletes and the campus community at large. The building's second floor will feature an NCAA-regulation track-and-field facility, complete with a 200-meter track, as well as offices and labs for the university's Health and Human Performance Department. The complex also will house athletic department offices and video and meeting rooms. Designed by Minnetonka, Minn.-based Opus Architects & Engineers and St. Louis-based Hastings & Chivetta Architects Inc., the complex is expected to open in fall 2010. |