Ever wonder what it would be like to fall out of an upper deck? Hollye Minter would tell you, if only she could remember. Everything between losing contact with a 30-inch-tall railing on the Home Run Porch at The Ballpark in Arlington and landing on the Care Flight helipad at Parkland Hospital in Dallas is a blank. That was April 1, 1994, opening day of the Texas Rangers' new stadium, and Minter — who, on her 26th birthday, suffered a fractured vertebrae, two broken ribs, a broken shoulder and six broken teeth - was reminded of at least some aspects of her ordeal last month, when a man fell 30 feet out of the first row of the Ballpark's club level. Paul Steinbach spoke to Minter on July 7, the day after Tyler Morris became the second member of an unenviable Rangers fan club.
Q: How did you react upon hearing that another fall had occurred at the Ballpark?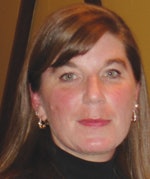 A: My daddy called me and said, "Are you watching the game? A guy fell." Then when I turned the TV on it just brought back so many emotions. I wasn't ready to relive this.
Q: Can you relive the moments leading up to your own fall?
A: Someone was taking my picture with the stadium in the background, and I had my hand on the rail. Home Run Porch here is really steep, so I guess somebody got my attention and I looked. When you look up, your natural instinct is to go backwards, and that's where I went.
Q: You said in 1994, "I don't care if the railings obstruct my view, as long as nobody else falls." Do you still stand by that statement?
A: Absolutely, and let me tell you that just hearing you say that now and knowing that I said it before gives me chills. I just wish the Rangers would have listened. By the time I got out of the hospital four days later, the rails in Home Run Porch were raised, but that was the only place.
Q: What do you think about a code-required 42-inch rail around the upper decks of all stadiums, as one sports architect has suggested to AB?
A: It makes me feel a lot better that at least somebody is looking at it. Thirty inches is not very tall. Forty-two is generally above most people's center of gravity, which is below the waist. I'm 5-4, and this rail hit me right under my butt. If it was 42 inches, I would have to make an effort to fall over it. It would be a lot harder for something like this to happen.
Q: Have you found a silver lining in your situation?
A: One thing that I learned about myself in all this mess is that God never gives you more than you can handle. So maybe this happened to me so they would raise the rails in Home Run Porch. Maybe this gentleman fell so that the Rangers will now really open their eyes and raise the rails everywhere else, because next time - and I hate to say this - somebody's going to die.