Arena renovation is a hot market. And with college athletic departments looking for ways to extend the life of their venues, those renovations are usually extensive and involve adding high-quality amenities, premium seating, open concourses and even a new seating bowl.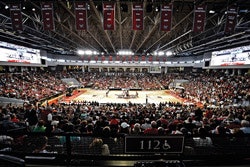 (Photos Courtesy of Hussey Intercal)
Seating remains the most important component of a venue - whether an Olympic stadium that holds 80,000 or a 1,200-seat Division III college arena - but it also remains the most overlooked. The impact of premium seating, the science of seating and how seating is configured have evolved significantly over the past 50 years, reflecting changes in the expectations and demands of today's sports fans, as well as how they socialize.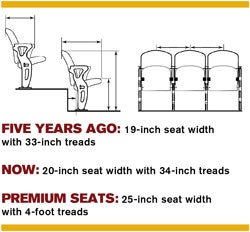 A HISTORY LESSON
To understand today's seating trends, particularly in small to midsize arenas, it helps to first step back into the 20th century. For most arenas constructed during that era, premium seating was neither valued nor considered in the development of facilities. Standard seating frequently featured minimal arm rests, narrower seats and little space between rows. Just five years ago, the average seat width was 19 inches, and a 33-inch tread was typical.
Now, influenced by a variety of factors that include the increasing size of the average American and the demand for more comfort, the average seat size has expanded to 20 inches wide with a 34-inch tread. Arenas compete with the in-home experience, made even more desirable by the proliferation of high-definition televisions. Add in rising ticket prices, and it's no wonder that the days of cramming as many seats as possible into a venue have come and gone.
Today's spectators want comfort. They want access. Most of all, they want space. Despite only the slight increase in width and tread over the decades, that change still provides a noticeable difference.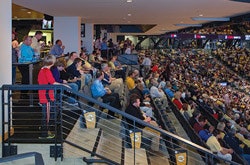 SOME EXCEPTIONS
As with most things, there are exceptions to the standard. When considering collegiate arenas' student sections, the motto seems to be the tighter the seating, the better the atmosphere. Because student tickets often are sold at steeply discounted prices - and because an important part of the venue design is creating an intimidating home court atmosphere - benches, not individual seats, tend to comprise these sections. Students are essential to that environment, and some collegiate venues such as St. Louis University's Chaifetz Arena, Mizzou Arena and Minnesota's Williams Arena pack student fans shoulder to shoulder in bench seating sections.
The other exception to standard seating measurements occurs in premium seating. Premium seating options vary by venue and target markets, including clubs, suites and loge boxes. Club seats typically are 23 inches wide with a 34-inch tread, while suite seating rivals in-home recliners, with 25-inch seat widths and four-foot treads.
Adding to their appeal, these premium spaces are no longer always located above the seating bowl. Instead, universities are exploring possibilities that bring premium seating closer to the action, which further drives revenue generation and increases the value of an individual ticket while also requiring some creative reconfiguring.

WHAT'S BEST?
Facility owners should have a total seat count in mind well before design work begins on new construction or a renovation. This should not be an arbitrary number picked out of thin air, which actually does happen. Ideally, seating capacity numbers should be thoroughly researched and derived from a market feasibility study conducted by the university or athletic department and carefully tailored to the primary team tenant and its audience. A market feasibility study involves interviews with promoters, fans and donors, a breakdown of demographics of the current and projected fan base, and an examination of the conference or league.
Why do these factors determine the number of seats needed? Simple: If the client fully understands who its audience is, what it can afford to buy and what its competitors have, that facility's seating setup can be tailored accordingly and position the venue to generate additional revenue for years to come.
Once a thorough study has been conducted, facility operators will better understand the arena's needs and can make future decisions accordingly. It's important to note the seating bowl and premium seating makeup have the biggest impact on a venue's cost, because they dictate concessions and restroom needs, as well as the size of the concourse, sound system, lighting and scoreboard. Therefore, a decision about the seating and the mix of premium options must be made early on.
Architects build for the average crowd at an average game, not the Big Ten Conference men's basketball championship. However, there are options to consider in order to accommodate larger events. With the advent of flexible seating, teams willing to invest can reconfigure the seating bowl for multipurpose programming and host basketball, hockey, concerts and other community events. This flexible seating model does not impact the actual size of the seats, but rather the way they are configured (or reconfigured).
WHAT'S NEXT?
No single one-size-fits-all formula or mathematical equation will allow you to easily determine the seating needs of an arena; it's something that requires extensive research and an intuitive sense of the current and projected fan base, as well as the desire to think creatively about the type of seating provided. Moving forward, loge boxes, social gathering spaces, and larger, more comfortable and more flexible seating areas will become increasingly common.
Arenas - and all sports facilities, for that matter - will continue to face challenges as they compete with the in-home experience. The way universities respond to these challenges and increased customer needs will be critical to them remaining viable and relevant.
A New Kind of Student Section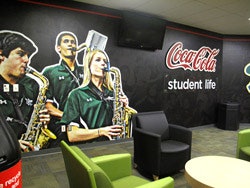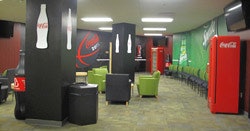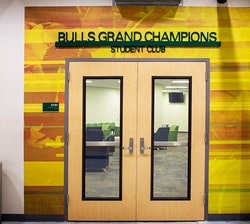 The student section at the University of South Florida runs along the west baseline of the Sun Dome, which reopened in 2012 after a major $36 million renovation. But what sets it apart from any other in college basketball is the 2,000-square-foot Student Club - an exclusive area located off the playing floor and beneath the seating bowl.
Intended to reward students for their support of the team, as well as keep them coming back game after game, the carpeted area boasts couches, televisions, refreshments, a drink rail and music. Athletic director Doug Woolard came up with the idea, and Kansas City-based architectural firm Populous incorporated it into the redesign of the 10,000-seat arena. The space is operated by the USF Student Council, which determines how it should be used to maximize revenue and rents it out to other organizations such as alumni groups and the campus's Greek community.
Populous designers say USF's Student Club is the only premium amenity space in the country specifically designed for students. But it likely won't be the last.
- Michael Popke