Straight lines tend to dominate the geometry of team suites made up of what amounts to rows of boxes: locker rooms, meeting rooms and coaches' offices.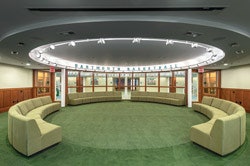 Dartmouth College's basketball suite, an adaptive reuse of a 4,000-square-foot fitness center, has some of that, but its face to Berry Sports Center visitors is a graceful curve. Moser Pilon Nelson Architects of Wethersfield, Conn., pushed the entry doors eight feet in from the corridor wall so that they flank a large glass-walled semicircle, half the circumference of the team meeting room within. The dome above bears the inscription "Dartmouth Basketball," while the curved, plush couches below reinforce the room's shape.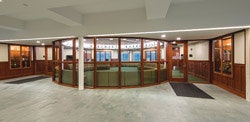 Dartmouth is using this eye-catching design to show its commitment to its men's and women's basketball programs, give its athletes a comfortable and high-profile meeting space, and provide recruits with an eye-popping first impression of its athletics program.
(Photos © Gregg Shupe 2013/ShupeStudios.com )