Football uniforms are easy to change, and the University of Oregon does it often. But the school's new basketball court is another matter.
Kilkenny Floor at Matthew Knight Arena debuted Thursday night on Fox Sports Net, but the television audience didn't fully appreciate the floor's unique design, which features brown and tan evergreen trees protruding toward center court from every boundary. That's because glare on the floor caused by a ribbon board on the arena's upper level washed out much of the hardwood artistry, or at least served as a "headache-inducing" distraction. Wrote Jeff Eisenberg of Rivals.com, "Add in the fact that the ribbon board changed color from white to yellow to green to blue every few seconds, and it made watching the game feel like staring into a strobe light."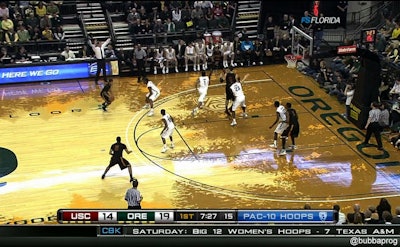 Other reviews were similarly prickly. "Oregon's Court Glare a Real Pine for Some," stated CBSSports.com. "Oregon's New Basketball Court May Cause Retina Damage," claimed SB Nation. A poll about the court at NESN.com sees "It's obnoxious and hard to look at" leading "It's different and cool" by 5 percentage points.
For 12,364 fans inside the new $227 million arena, a 35-minute opening ceremony was followed by a 68-62 Pac-10 victory by the last-place Ducks over Southern Cal. Not too hard on the eyes.