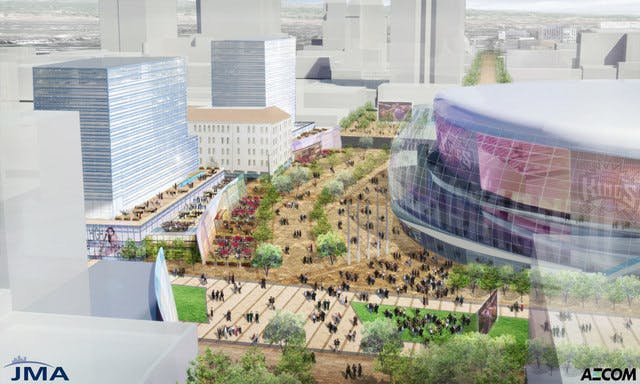 1cHKDZ.St.4.jpeg
A rendering of the new Sacramento arena from AECOM.
"Long Live the Sacramento Kings," says the banner on the team's official website. Of course, there was a time when the Sacramento Kings were on life support, at least in their current city.
However, with a new owner at the helm, the threats of moving to Seattle are in the past. Now the Kings are turning to sports architecture firm AECOM to solidify their future in California's capital with a new downtown arena.
The franchise recently awarded AECOM the opportunity to be the lead architect on a downtown entertainment and sports complex.
"AECOM is renowned for designing some of the most state-of-the-art sports and entertainment venues in the world," the Kings said in a press release.
"We now have a world-class team in place and we look forward to developing what we believe will be an important civic space, and the loudest building in sports, right here in the heart of downtown Sacramento," Kings president Chris Granger said.
While we're not so sure the Kings are a "world-class team," (they haven't finished over .500 since 2005-06) there's no arguing the renderings look good.
AECOM is no stranger to designing NBA arenas. The firm has been the lead architect on 11 NBA venues including the Barclays Center in Brooklyn.
"We are thrilled to be selected to design the new downtown arena," said Jon Niemuth, Director of AECOM Sports, Americas. "For some of the best fans in the NBA, we are prepared to design an arena that will not only provide a tremendous home court advantage for the Kings, but that will also create an amazing experience for everyone who steps foot in and around the facility. This project will transform downtown and the entire region."
Check out more renderings below.