Turner Field, home of the Atlanta Braves since 1997, will not hold that title for much longer. The Atlanta Journal-Constitution reported early Monday that the Braves plan to build a new stadium in suburban Atlanta and begin play there in 2017.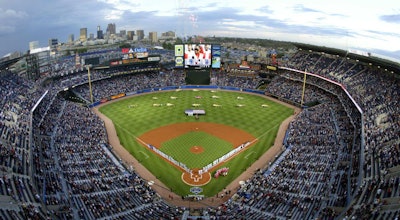 The Atlanta Braves have called Turner Field home since 1997.
The new stadium will be built in Cobb County, about 20 miles northwest of Turner Field's location in Atlanta. According to the AJC, Braves executives told reporters the team has "secured" 60 acres of land for the project. According to the paper:The Braves said the project will be built in partnership with Cobb County. They indicated that Cobb County would provide public funds toward building the stadium but declined to provide details on that.
The Braves' will play the next three seasons at Turner Field. The team's lease there expires after the 2016 season.
Turner Field was built in 1996 as the centerpiece for the 1996 Summer Olympics. It was then converted into a baseball stadium to host the Braves who played nearby from 1966-1996. The stadium cost $209 million at the time it was built.
There is no word on how much the new stadium will cost. Atlanta's NFL franchise, the Falcons, are also getting a new stadium. The cost of that new downtown stadium is estimated at $1.2 billion. The Falcons currently play in the Georgia Dome which opened in 1992.