When "extensive cracking" in the concrete closed down Allen (Tex.) High School's Eagle Stadium last month, no one knew just how serious the damage was, but anyone could guess fixing it wouldn't be easy. The full report from Nelson Forensics on the stadium's condition was released on Wednesday, and the news isn't good. 
---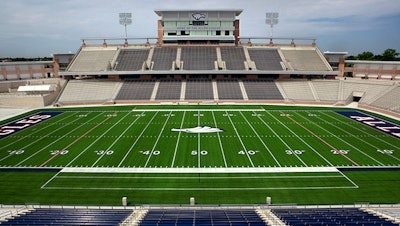 According to the report, the damage was the result of "drying shrinkage of the concrete" — that is, the concrete was poorly cured. Cracks range in size from hairline to a third of an inch and have allowed water to seep into the floor joist system, causing further structural weakening. 
"The cracking has decreased the service life of the structure and potentially decreased its structural capacity," the report says.
Nelson Forensics proposed four possible solutions. The first and most expensive would be to completely tear down and rebuild the concourse level, replacing concrete slabs and adding additional fixes to the floor joist system. While it would also take the most time to complete, it would provide a long-term fix. 
RELATED: Pogue Construction's Statement Regarding Allen Eagle Stadium
The other options would provide different variations of temporary, bandaid fixes, relying on epoxy injections to seal the cracks. While each would be cheaper than partial reconstruction and be accomplished in less time, each would need to be redone on a regular basis.
Additional testing is expected to take months to complete at an estimated cost of $100,000. The school district has not yet made a decision on what action it will take, nor whether the stadium will be open for the fall athletics season.