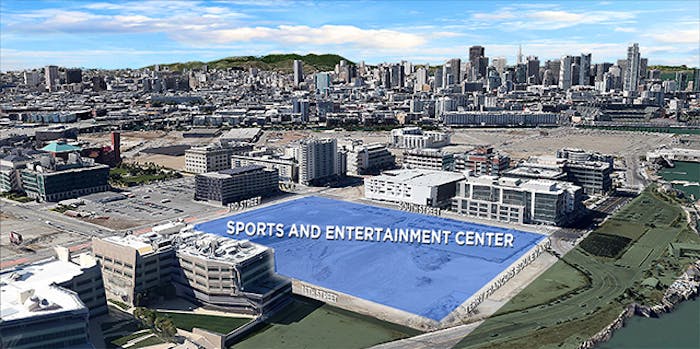 As the Golden State Warriors remain focused on extending their current season in the NBA playoffs, its owners have begun to lay the groundwork for the team's future.

Golden State announced Tuesday it will buy 12 acres of land near the San Francisco Giants ballpark in the Mission Bay neighborhood, in hopes of the site will one day be home to a new 18,000-seat arena.

"We believe Mission Bay is a perfect fit," owner Joe Lacob told The Associated Press. "It is a wonderful inland site in a dynamic part of the city that is convenient for fans from all over the Bay Area."

Lacob, along with co-owner Peter Guber — who spoke at the 2012 Athletic Business Conference & Expo in New Orleans — had originally looked to a waterfront site that would offer a view, but local residents voiced concerns that the arena might block views of the bay, in addition to other environmental concerns.

Instead, the Warriors new site will sit farther inland, which allows the team to avoid putting the project proposal up to a vote for residents to approve, according the San Francisco Chronicle.

As a part of the move to a new arena, the Warriors will be hoping to expand their fan base back into the San Francisco area. Originally playing in San Francisco starting in 1962, the Warriors have played in Oakland since 1971.

"We are looking forward to engaging with the neighborhood and, ultimately, making this site 'Warriors Ground.' This is our path to San Francisco," team president Rick Welts said.

The cost of the land was not released by Golden State, but Salesforce — the company that sold the Warriors the land — purchased the 14-acre lot two years ago for $248 million. In addition to a much easier route to city approval to build in the Mission Bay location, cost projections for the bayside location had doubled since the team began planning for its new home two years ago.

The new arena will include seating for approximately 18,000 people, with an estimated opening date set for the 2018-19 season. It will be funded entirely with private money from the team's owners.