Editor's note: This story originally appeared in Sports Venue Safety, a new supplement to Athletic Business. View the entire digital issue here.
Among the noteworthy numbers to emerge from Super Bowl XLVIII in New Jersey last February — along with 48 (the number of points racked up by the Seattle Seahawks) and 8 (the Denver Broncos' meager output) and 49 (the surprisingly agreeable game-time temperature) — was this lesser-known figure: 10. That was the reported number of arrests made at MetLife Stadium security checkpoints that day — most for disorderly conduct, drug possession or trespassing.
Ten.
Whether that number, reported in the hours following the game by The Star-Ledger in Newark, reflects a full and accurate account of police activity that day is open for debate. Some security experts aren't convinced that what the public hears and what actually happens are necessarily compatible. However, one thing is clear: The message got out early and emphatically that security at the so-called "mass transit" Super Bowl was going to be formidable. Nearly 100 law enforcement agencies, including 30 at the federal level, were involved in the gameday strategizing, and the police presence — from state troopers and sharpshooters to helicopters and Humvees — was hard to miss.
On a personal level, each of the 82,589 patrons in attendance was subjected to a gauntlet of metal detection, pat-downs and bag searches before being allowed near the stadium. Said acting captain Stephen Jones, a state police spokesperson, "We hope Super Bowl XLVIII becomes the new template for how security and safety are handled into the future of the event."
More from Sports Venue Safety: Shaping the Future of Athletics Safety and Security
In truth, such turnstile security measures had already begun their march toward mainstream acceptance, at least at the professional sports level, by the time the Seahawks and Broncos met at MetLife. "There are stricter policies on screening patrons as they enter stadiums and also what belongings they can bring into a venue now," says Stacey Hall, associate director of the National Center for Spectator Sport Safety and Security (NCS4) at the University of Southern Mississippi. "After the 2013 Boston Marathon bombing, people started to reflect and to again look at some of their access-control procedures, such as perimeter control and screening."
---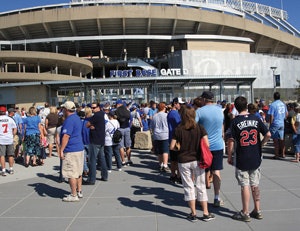 AHEAD OF THE CURVE
Major League Baseball made headlines in January by announcing it was mandating that all 30 member clubs employ full-scale metal detection by opening day 2015. At the time of the announcement, several clubs — including the New York Mets, Boston Red Sox, Oakland A's, San Francisco Giants and Pittsburgh Pirates — had already gotten a jump on the practice.
"It's a big change for our staff and our fans, and we knew that we wanted to take the time to do it right, and so we've been doing sort of a measured roll out of the use of the equipment," says Rebecca Hale, director of public information for the Seattle Mariners, who began screening a limited number of fans with metal detection this season. "We'll do it at certain gates on certain dates, and we'll do different levels of screening as we train our staff, as we get to know the equipment, as we start educating our fan base about a pretty big difference in what they can expect when they come to the ballpark."
Walkthrough magnetometers will be the technology of choice at Seattle's Safeco Field, with handheld wands used when a fan can't physically navigate the magnetometer due to a wheelchair or oxygen tank, for example, or the magnetometer sounds an alarm that can't be explained by car keys, pocket change or a replacement knee. Other fans, namely those with pacemakers, have expressed unease with the magnetometer, and the Mariners are more than willing to alternatively accommodate them with a wand screening.
On rare occasions, a Mariners fan is found to be carrying some small form of contraband — a pocketknife, perhaps — at which point he or she is given the option to return it to his or her car, check it for later pick-up or throw it away. Says Hale, "People will not even think about that as something that would be a prohibited item, because a lot of times it would simply have just passed through without being noticed."
That's the league-wide goal — to close those types of security gaps. "We believe that this initiative enhances safety, is accepted at public events and can be done with minimal inconvenience," says MLB spokesperson Michael Teevan. "The new procedures stem from MLB's continuing work with the Department of Homeland Security to standardize security practices across the game. Bag checks that have been uniform throughout MLB are one example of uniformity in recent years, and now screening, via metal detection or walk-through magnetometers, will become another."
MLB teams have imposed a limit on the size of bags fans are allowed to carry into ballparks to 16 by 16 by 8 inches. The NFL's bag policy, instituted for the 2013-14 season, goes further. Not only are permissible bags smaller in size (12 by 12 by 6 inches) but they must be clear, as well. Prior to this year's NCAA Division I Men's Basketball Final Four at AT&T Stadium, home of the Dallas Cowboys, 200,000 clear tote bags were given away to fans by the Dallas Convention & Visitors Bureau. The NCAA provides host venues with a 332-page Final Four operations manual, but is tightlipped about its own specific security measures beyond what is shared with the general public in terms of what is and isn't allowed through the gates. Says NCAA spokesperson Gail Dent, "We want to protect fans and not provide details for individuals who may want to do harm."
The Mariners' Hale is similarly apprehensive about over-sharing. "It's not that we have some kind of black ops system here," she says, "but I think some of the details of what we do and other teams do are best left to the security professionals."
High schools, too, are taking security cues from the professional and collegiate ranks. In January, the Farmington Daily Times in Arizona reported that four local schools were changing their security protocols for basketball games to include identification checks, bag searches and metal detection. "I think every school is thinking about those issues," says Elliott Hopkins, director of sports and educational services for the National Federation of State High School Associations, which has worked with NCS4 to help state associations and their member schools formulate security plans. "I know a lot more schools are asking for IDs. Bag checks are not uncommon, because you go to any professional or college event, they're going through your bags. And I think once a school sells that to its community, people aren't so shocked by it."
This spring — at events in Mississippi, Connecticut and Indiana — NCS4 rolled out a security curriculum tailored to the high school level. It did so without the type of DHS grants that had funded NCS4's college-level work from 2007 to 2011. "We just decided that this was another market that needed our help," says Hall, who oversees NCS4's academic offerings. "So we did the proper procedures, conducted a focus group that figured out the content of this new course, with some modifications from the college one, and we delivered three pilots."
NECESSARY MEASURES
Because of the lack of grant funding, participating high schools had to pay for the NCS4 programming, but the reality is that security at every level comes with a price. "It's a necessary investment," Hale says, without revealing the actual cost to the Mariners of their new metal detection equipment. "It's not something that we feel was imposed upon us, that we don't feel good about. We recognize that it's important, that this is Major League Baseball's effort to standardize and improve security at all ballparks. In the world that we live in today, we recognize unfortunately that this is necessary."
Ideally, such investments mitigate future costs — financial and otherwise. On Dec. 20, mere weeks ahead of Super Bowl XLVIII, New Meadowlands Stadium Company LLC received DHS SAFETY Act approval, thus protecting the company from liability based on its MetLife Stadium Security Program, "an integrated security program composed of physical and electronic security measures, policies and procedures, and personnel, designed to detect, deter, prevent, respond to, and mitigate Acts of Terrorism for use exclusively at MetLife Stadium, inclusive of the Stadium and parking lots, during National Football League ("NFL") Game Days, Non-Game Days, and Special Events." On Nov. 14, the NFL, with its Best Practices for Stadium Security, saw its own certification, originally granted in 2008, renewed just in time for the big game.
Both entities were singled out during an April 24 DHS webinar focused on the SAFETY Act's application to event, arena and stadium security, and how product and service providers can best navigate the SAFETY Act approval process. The goal is to encourage continued innovation.
In some cases, simple facility design considerations can make a difference. "A lot of new stadiums being built have the luxury of actually building in some safety or security design features that the older stadiums just don't have," Hall says. "Perimeter control — dealing with problems farther from your actual physical structure is the idea. Not having tailgating or a lot of activities within a close distance to the actual structure. The last Super Bowl, in New Jersey, you couldn't drive to the stadium. You either bussed in or you took the subway. The fewer vehicles and traffic problems within a close distance to the actual stadium is something that designers are looking at. It also prevents the possibility of a vehicle-borne IED."
Similar to metal detection and bag policies, such measures can be league-driven. The National Hockey League recommends that its arenas — new and old — be surrounded by a 100-yard no-parking zone. Vehicles allowed any closer than that are to be thoroughly searched and monitored, according to NHL vice president for security Dennis Cunningham.
"Sports are a potential target. We know that," Hall says. "The professional leagues are moving in the direction of establishing standards for their league members: 'Look, if you're going to play in this league, these are our baseline security expectations, and you should be able to manage this consistent policy across the board.' I'm an advocate for that, and I believe in that. It's been lacking in the past."
The further down the sports ladder one goes, the more slippery the cost-benefit analysis of sports venue security can get. "It's a gray area, because it's not really easy to determine," Hall says. "If nothing goes wrong, that's great. But I think it's really critical for executives of sports organizations to actually understand the importance of this safety and security line item in their budget, because it does have an effect on absolutely everything else — your ticket sales, your merchandise sales, the economic impact to your city if an incident was to occur. There's been some inconsistency, especially at the college level. Again, that comes down to a lack of resources and just a lack of understanding that they are a potential target, and there could be something horrific just around the corner."