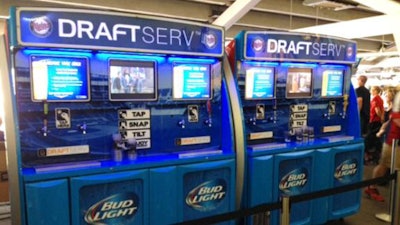 Target Field, home of the Minnesota Twins, made history on Sunday when it became the first Major League Baseball stadium to allow fans to pour their own beer.
However, like all things that seem too good to be true, there are rules in place. According to the Star Tribune, customers must purchase $10 or $20 cards from cash registers at the stadium. Their ID will be checked if they appear to be under 30. Another worker will then be located at the serving station to re-check identification or cut off a fan who perhaps doesn't need to pour anymore beer.
From there, everything is in the fan's hands. They will be able to pour as little as one ounce or as much as 48 ounces every 15 minutes. Concessions provider Delaware North general manager Pete Spike compared the process to "topping off your [gas] tank."
Video screens will be situated on the pourers to show how to properly fill up a cup, which can be suffused with Budweiser, Bud Light, Goose Island's 312 Urban Pale Ale or Shock Top's Lemon Shandy. The beer prices range from 38 cents per ounce to 40 cents per ounce.
The self-serving stations arrive just in time for the MLB All-Star Game, which Target Field hosts on July 15. For now, the machines are located along the third-base line, but there will be additional servers located on the first-base side in time for the big event.
Like normal concession stand pourers, the stations will stop serving by the seventh inning. But don't fret: if there's still money on your card when the seventh-inning stretch arrives, you can always fill up at your next game.