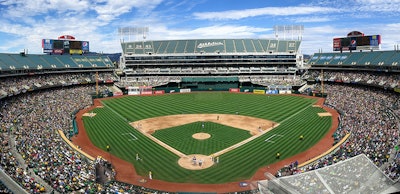 The A's are inking a deal to remain in the O.co Coliseum for 10 years; the Raiders are making separate plans to tear it down and build a new stadium on the exact location. Forget Orange County — real California drama happens in Oakland.
The Raiders are shooting to reach a deal with representatives of a proposed sports-retail project called Coliseum City by the end of the summer to demolish the existing O.co Coliseum next year and erect a new one in time for the 2018 season. Coliseum City plans include a stadium, surrounding housing, retail centers and a hotel.
According to the San Francisco Chronicle, the city of Oakland has already put at least $4 million towards the project. Coliseum City's attorney Zachary Wasserman has stated that it will cost "less than $1 billion," and will be paid for with the revenue brought in by the surrounding retail centers.
The A's, on the other hand, have been meeting with the Oakland-Alameda County Coliseum Authority, who actually controls the existing stadium. Coliseum Authority is supportive of the A's 10-year lease extension and not of the proposed Coliseum City plans.
If the Coliseum City deal does indeed go through, the A's have the rights to two years' notice before any construction can force them to play elsewhere. That would allow them to play at O.co until the close of the 2016 MLB season, which of course hinders the Raiders' plans.
"From our position, we just don't think that [Coliseum City] is going to happen," said the A's vice president Ken Pries. If for some reason it does, the two teams will have to figure out how — and where — to play nice in the meantime.

The Coliseum opened in 1966 and is the only stadium in the United States that houses both a professional baseball and football team.