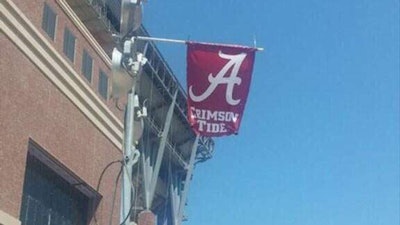 Texas A&M's Kyle Field is undergoing major renovations this summer, including the addition of about 20,000 seats and the largest video board in college football.
Adding an Alabama Crimson Tide flag to the side of the stadium wasn't on the list, but it wound up there anyway.
As reported by Fox Sports, a crane operator working on the Kyle Field upgrades hung an Alabama flag from the side of the stadium on Monday and has subsequently been fired. When reached for comment, Texas A&M neither confirmed nor denied the firing, stating, "We are unaware of how the Alabama flag was placed on the Kyle Field jobsite, but it was removed once discovered."
RELATED: Texas A&M Adds Biggest Video Board in College Sports

The crane operator was working for a subcontractor hired under Manhattan-Vaughn, the managing contractor of the stadium's renovations. Manhattan Vaughn said that they're "not involved in the Subcontractor's employment policies and therefore cannot comment as to why he is no longer working on the site."
While placing an SEC rival's flag on the stadium was a careless idea, the punishment seems a little harsh. Like the crane operator, the flag has since been relieved of its duties.
{module Construction Firing}