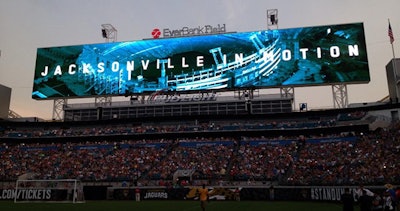 The Jacksonville Jaguars unveiled the world's largest video boards on Saturday.
The NFL franchise spent $63 million on the two identical Daktronics video boards towering over each endzone and measuring 62-feet high by 362-feet wide. For the non-math majors out there, that means each board totals 22,444 square feet. For comparison, that's close to double the size of the famous video board in AT&T Stadium in Dallas, which measures 180 feet by 72 feet — a measly 12,960 square feet.
RELATED: Texas A&M Adds Biggest Video Board in College Sports
The Jaguars debuted the displays before an exhibition soccer match between the MLS' D.C. United and English club Fulham at EverBank Field. Check out the video below to see the board in action. It gets good around the 30 second mark.
"What we're doing is upgrading the experience for our fans," Jaguars owner Shahid Khan told the New York Times in this story about Daktronics. "This is another step in the arms race to get the fans back into the stadium."
The Jags need all the help they can get. These boards are certainly a great start.