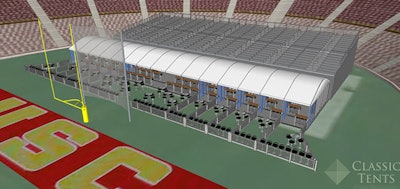 The latest trend coming to football stadiums is "toes-on-the-turf" experiences. Aside from strapping on a helmet and making a tackle, seating arrangements that allow fans to watch the game while standing on the playing surface are bringing them as close to the action as possible.
Just as AB was putting the finishing touches on an article for our September issue that mentions Mississippi State's new "toes-on-the-turf" experience yesterday afternoon, we noticed The University of Southern California announced its own rendition.

The Trojans will add two new field-level seating options to The Los Angeles Coliseum, plus a field-level pre- and post-game club for the upcoming season.

The Field Suite experience offers a private setting with all-inclusive upscale dining and beverages, including alcohol just feet away from the East end zone. USC is selling 10 of these suites which seat 16 people each.
RELATED: Beer and Wine Sales Trending at College Stadiums

The second option is the Field Club which is a field-level lounge designed to hold 100 people. This club will also offer all-inclusive dining, all-inclusive beverages including beer and wine and a tented club with televisions.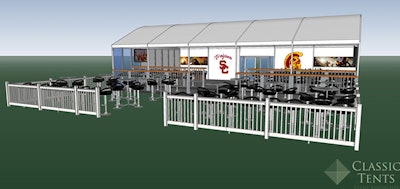 USC's third "experience" is the Peristyle Club, a pre-game and post-game experience included with the purchase of a Field Suite or Field Club seats. According to USC's website, the Peristyle Club will offer "money-cannot-buy experiences such as an arm's length proximity to the Trojan Walk." The club is open three hours before kickoff and one hour following the end of the game.

The LA Coliseum has been the Trojans' home since it opened in 1923. With a capacity of 93,607, it is the largest stadium in the Pac-12.

RELATED: USC to Offer Four-Year Scholarships in Revenue Sports