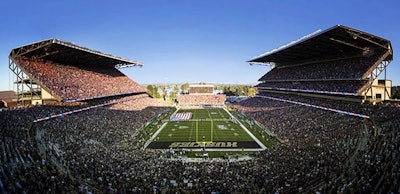 Washington Husky fans are being given a longer leash at home football games this year.
The University of Washington announced a new feature at Husky Stadium: The Off-Leash Deck. For $25, fans can buy a standing room only ticket on the northwest deck of the stadium that will serve beer, wine and snacks before and throughout the game. Tickets can be used for admission to the game, or in addition to an existing ticket. All beverages must be consumed in the section. Capacity of this new area is limited to 500 people.
If UW sells out the "Off-Leash" tickets for its seven home games, and each person bought four beers, the school would bring in nearly $200,000 in revenue according to KREM.com. UW had previously limited beer and wine sales to suites and its club seating area, Club Husky.
Log in to view the full article