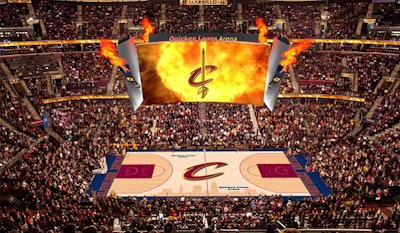 A big off-season for the Cleveland Cavaliers just got even bigger. The team signed LeBron James, traded the past two number-one overall picks to the Minnesota Timberwolves for Kevin Love, unveiled a new court design and now has announced it has the largest center-hung HD scoreboard of any arena in the country.
Judging from the use of exclamation points and bold lettering in Monday's press release, the Cavaliers are quite proud of Quicken Loans Arena's new scoreboard. "It's the biggest, the best and it has flaming sabers!" the announcement was headlined.

The ANC Sports-designed scoreboard will measure 31.5-feet high and 55.69-feet wide along the sidelines and 29.92-feet high by 33.07-feet wide along the baselines. That's 5,550 total square feet of LED technology. For context, an NBA court is 94 feet long and 50 feet wide.

The Houston Rockets' Toyota Center was previously home to the NBA's largest scoreboard, measuring a measly 25 feet high by 58 feet wide along the sidelines.

"Cavs, Monsters and Gladiators fans, and many other event attendees at The Q, are going to be blown away by the new sights and sounds of this system!" said Len Komorski, Cavaliers and Quicken Loans Arena CEO.

In addition to the new scoreboard, The Q will also add 11,682 square feet of new LED displays in the arena's seating bowl and concourses, including updating the 360-degree ribbon board in the seating bowl and replacing all back-lit signage with LEDs.

The arena's new sound system was designed and installed by Parsons Audio.

The team hopes the improved audio-visual capabilities at the 20-year-old venue will help the city attract "major national and international events to Cleveland, including a future NBA All-Star game and more NCAA tournament and championship events that bring millions of dollars into the city and region."

Fans will get their first glimpse of the board on Thursday when the Cavs open their season with a home game against the New York Knicks.

RELATED: How the Cavs Turned Their Playing Surface into a 3-D Video Board