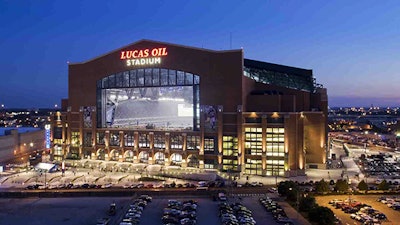 When $720 million Lucas Oil Stadium opened in downtown Indianapolis in 2008 it was praised for its airy design and luxurious amenities.
"There wasn't anything that you saw that you said, 'Boy, I wish they had done this better' or 'they could have done that,'" Tony Dungy, head coach of the Colts at the time of the stadium's opening said. "It's just a well-done place, and I think it's going to be a great home for us."
But six years later it appears there are some things that could have been done to make the stadium better.
The Indianapolis Star reports that it will cost up to $2 million to repair pipe insulation at the stadium that officials say was either improperly installed or "deteriorated prematurely."
According to The Star, the Indiana Stadium and Convention Building Authority, which was responsible for the design and construction of the stadium, will pay the first $1 million in repairs, plus half of the remaining balance. The Capital Improvement Board (CIB), which operates the stadium, will pay the other half.
And there are two other major issues with the facility, some that became apparent before the stadium even opened. Flooding from roof drains broke open during a storm weeks before the stadium opened in 2008. Additionally, pipes that supply water to restrooms, sinks and water fountains corroded and had to be replaced in 2011.
In total, the three major issues will end up costing roughly $15 million.
John Klipsch, the executive director of the building authority, says the building authority recovered $13.8 million out of at least $14.7 million for repairs of the three major issues. Any additional money will come from contingency funds in the original taxpayer financing of the stadium.
"As in all mediations, you don't get everything you ask for or claim as a problem," Klipsch said. "For us to recover all but a million dollars of $15 million is a great settlement. You wouldn't do that good in court."
The pipe insulation problem was identified more than two years ago, but not deemed "an immediate threat. "The flooding and corrosion issues were settled with bonding and insurance companies in 2013.


RELATED: How Stadium Construction Costs Reached the Billions