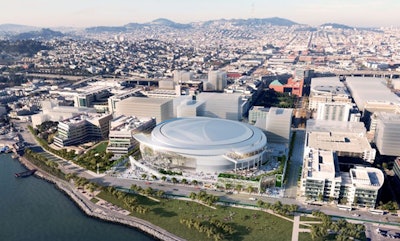 The Golden State Warriors have flushed previous designs for their new arena in San Francisco's Mission Bay neighborhood. Critics — or really anyone with eyes — claimed the design sketches released earlier this year made the arena look like a toilet.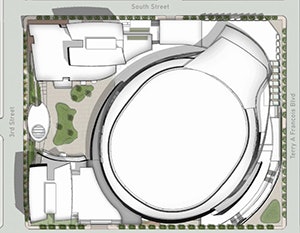 In renderings released on Wednesday, some significant changes have been made to the design. As sfgate.com explains:
Gone is much of the rectangular viewing deck that, when coupled with the oval arena, gave the overhead view of the place the appearance of a giant toilet seat with the lid down. The deck has been shaved down to about half its old size, dropped about 13 feet below the roof line and given a sweeping curve.

"We are trying to flush the toilet bowl forever out of people's consciousness," said Warriors arena consultant Jesse Blout.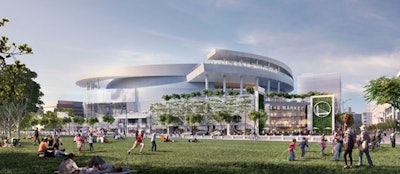 The new arena would seat 18,000 people, include a 24,000-square foot public plaza on the southeast side and a 35,000-square foot public plaza on the side running along Third Street. Golden State's designers are working with the firms MANICA Architecture and Snøhetta. They plan to present the new sketches to the Mission Bay Citizens Advisory Committee on Thursday.
A Warriors spokesman says the team hopes to break ground on the new arena by next fall and open it in time for the 2018-2019 season. The cost will be about $1 billion.
RELATED: How Stadium Construction Costs Reached the Billions
Meanwhile, things are also looking better for the franchise on the court too. The Warriors are in the midst of an NBA-best 14-game winning streak and have the league's best record.