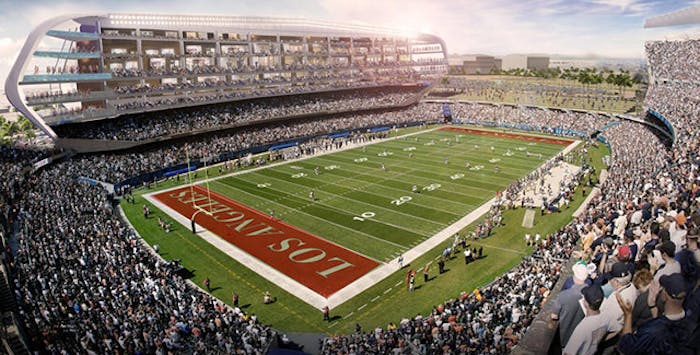 Los Angeles might go from having no NFL teams to two — or even three — if a plan by the Oakland Raiders and San Diego Chargers comes to fruition.
Rivals on the field, the two California franchises jointly announced on their websites Thursday that they will pursue a shared stadium in Carson, Calif., about 15 miles outside of L.A. The pursuit of the $1.7 billion NFL stadium will occur at the same time each franchise works on new stadium deals in their current cities. This announcement comes just a month after St. Louis Rams owner Stan Kroenke announced plans to build an 80,000-seat stadium in nearby Inglewood.
"We are pursuing this stadium option in Carson for one straightforward reason: If we cannot find a permanent solution in our home markets, we have no alternative but to preserve other options to guarantee the future economic viability of our franchises," the Raiders and Chargers said in a statement to the Los Angeles Times.
In this update posted Friday, the teams announced they will work with "a broad-based coalition of Carson community, business and labor leaders – called "Carson2gether" – to support a ballot measure that would entitle a 168-acre site in Carson for a new Los Angeles-area NFL stadium."
ESPN.com reports that the Chargers approached Carson officials with the stadium proposal nine months ago and that the Raiders later joined the talks, which intensified after Kroenke's announcement for the Inglewood stadium last month. The Chargers, Raiders and Rams, all teams that could potentially move to L.A., all can terminate their leases in their current stadiums after 2015.
If the Chargers and Raiders move to Los Angeles after the 2015 season, they would have to play in a temporary home for at least two seasons while the stadium in Carson is being built.

Both teams would prefer to play at the Rose Bowl because it is more NFL-ready than the Coliseum, a source told (ESPN's Arash) Markazi. The Rose Bowl recently underwent $182 million in improvements, including new suites, club seats and refurbished locker rooms, while USC, which took control of the Coliseum, is still unsure of renovation plans.
All three franchises have grown frustrated with pursuing new stadium deals in their current cities. The Raiders currently play at O.co Coliseum, which they share with the MLB's Oakland Athletics. That venue opened in 1966. The Raiders have teamed up with the Chargers on the Carson stadium option because they don't have enough money to build a new stadium on their own, according to the Los Angeles Times. Meanwhile, the Chargers currently play in Qualcomm Stadium which opened in 1967. The San Diego franchise has tried unsuccessfully for 14 years to build enough momentum for a new stadium in their home city.
"It's now abundantly clear that while we have been working here in San Diego to create a plan for a new stadium, the Chargers have for some time been making their own plans for moving to Los Angeles," San Diego mayor Kevin Faulconer said in a statement Thursday night. "This would amount to abandoning generations of loyal Chargers fans. Despite this news, we are going to continue our efforts to develop a viable stadium solution."
As for the Rams, they currently call the Edward Jones Dome home. That facility, built in 1995, is now considered outdated by NFL standards. Since 1995, 27 NFL stadiums have either been constructed or had at least $400 million in renovations.
"Our focus is 100 percent committed to keeping the Rams here in their home of St. Louis and ensuring that we remain an NFL city for generations to come," said former Anheuser-Busch president Dave Peacock, who is heading the effort to keep the Rams in St. Louis. "We are very encouraged and thrilled with the progress we've made."
The Jets and Giants, who both play at MetLife Stadium in East Rutherford, N.J., are the only NFL teams that share a stadium. Los Angeles has not had an NFL team since the Rams and Raiders departed for St. Louis and Oakland, respectively, in 1995.