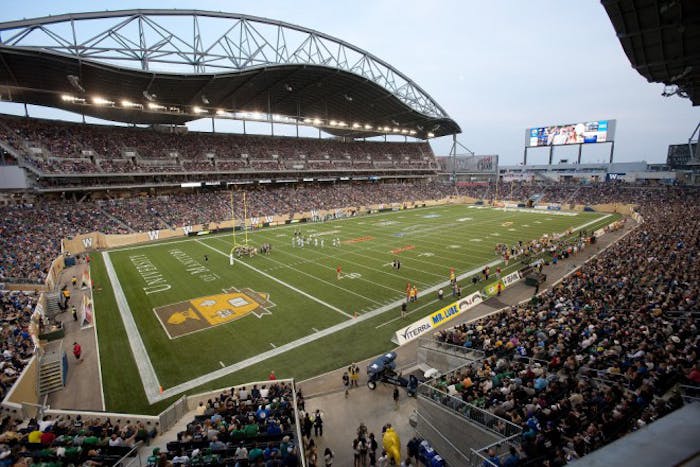 Owners of Investors Group Field, home of the CFL's Winnipeg Blue Bombers, are suing the architect and builder of the stadium for faulty design and construction and are seeking money to pay for extensive repairs at the stadium. 
Since opening in 2013, the stadium has experienced nothing but problems including leaky luxury suite roofs, poor plumbing insulation for the winter, and improper drainage. Immediate renovations were required so that it could host concerts and heating had to be installed in the press box so that it will be usable for the 2015 Grey Cup.

Triple B Stadium, a consortium including the Winnipeg Football Club, which owns the Bombers and runs the stadium, released a statement to the press, citing a report from a Winnipeg architectural and engineering firm.
RELATED: Allen ISD Spending Millions to Fix Unsafe $60M Stadium
Triple B states, "during the design and construction of the stadium there was insufficient attention to the mechanics of water drainage and heating, there was poor execution of critical details, and poor construction quality control."

The president and CEO of the Winnipeg Football Club, Wade Miller, says his organization is in full support of the lawsuit.
"While we are extremely disappointed that we have had to deal with continuous and ongoing issues since we became the primary tenant in 2013, we believe today is an important step forward in attempting to have them resolved," Miller said in a statement. 
The suit is filed against Raymond S.C. Wan Architect and Stuart Olson Construction and seeks damages, court costs, interest, and the cost of repairs, which currently stand at $4.72 million (Canadian). The allegations in the suit have not been proven in court, and the two firms have yet to file a statement of defense.  
Investors Group Field seats 33,500 people, is expandable to 40,000, and is set to be a host venue for the 2015 FIFA Women's World Cup. It cost $210 million (Canadian) to build.