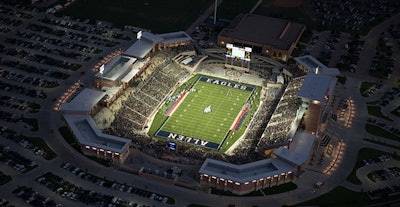 When Eagle Stadium opened in the Dallas suburb of Allen in August 2012, it was lauded as the best high school football facility in the nation. Today it's a money pit.
The Allen ISD school board voted Monday to use $2 million in existing bond funds to kick start construction on the broken stadium within the next two weeks. The money will go toward fixing the "extensive cracking" in the stadium's foundation that forced the school district to close the facility for the upcoming season.
Allen superintendent Lance Hindt says the money is a "security blanket." Hindt told CBS News in Dallas that Pogue Construction and PBK Architects will reimburse the district for any money spent on repairs. The district hopes to have the repairs complete in time for graduation next spring. With a tight deadline, Hindt says that's why the district is willing to spend the $2 million up-front immediately.
RELATED: Allen ISD: Don't Blame Us for Failures of $60M Stadium
To date, the Allen Eagles have not lost a game in Eagle Stadium (11-0) and are two-time defending state champions in Texas' Class 5A Division I. The stadium, which cost $60 million to build, seats 18,000 people making it the fifth-largest high school stadium in the state, but the largest that is home to just one school. It features a Daktronics 874-square-foot HD video board, a weight room, synthetic turf and 6,500 bench-back seats.