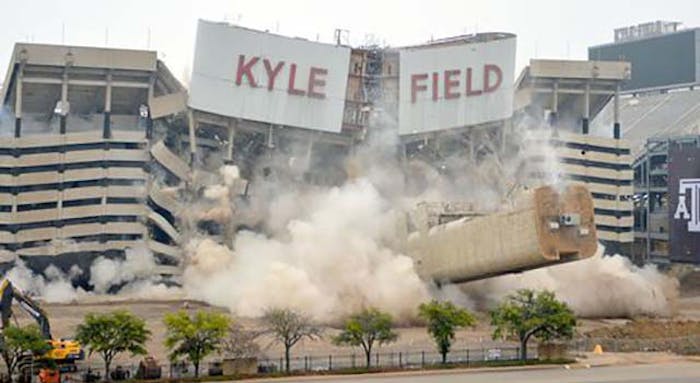 The recreation center natatorium at Texas A&M University has been closed since April 6 while crews work to remove hundreds of migratory bats that have taken up residence after being displaced by renovations at Kyle Field. 
An estimated 250,000 bats called Kyle Field home for a portion of the year until the 2014. Following the bat's annual migration to Mexico for the winter, however, construction of the Kyle Field's $485 million kicked off, starting with the implosion of the stadium's west side. Anticipating the bats' return this spring, crews put up nets to prevent them from taking up residence elsewhere on the stadium site, leaving the displaced bats to seek other quarters.
Some bats opted to seek refuge in homes across the street from the stadium and around campus. "It is not at all surprising, and was predictable," Dianne Odegard, an outreach manager for Bat Conservation International, told The Eagle. "Unmitigated eviction of a large colony of bats from a long-term roost will always result in suddenly-homeless bats, and the problems inherent in that situation, for bats and for people."
RELATED: Vikings Make New Stadium Bird-Safe
A few hundred of the returning bats took advantage of construction at the recreation center to gain access to the natatorium. The university has been working with a pest control company to set up nets and cones that will allow bats to exit the building safely but not reenter, encouraging them to find new homes. But not all of the bats have been able to successfully navigate the system, resulting in a few deaths from starvation. 
"It's an ongoing process to make sure that we provide a safe facility for all of our guests and be mindful to not harm the bats, if possible, because they're trying to get out," Rec Center Associate Facilities Director James Nash told The Eagle.
Bat houses have been placed throughout campus to help curb the influx of homeless bats, but Odegard suggests the university employ a "community style" large-scale bat house for the returning bats to utilize, similar to one used at the University of Florida. 
The bats do not pose a significant threat to students on campus, though students are cautioned not to touch live or dead bats but to contact A&M's facilities services to remove them. Nash says that bat sightings may become more common as the 18-year-old recreation center ages and new cracks create new entry points for the creatures. 
"There are always going to be bats in these facilities because they get through open doors and cracks, but we can manage and control it," Nash said.
RELATED: Persistence Pays When Trying to Rid Ballparks of Birds