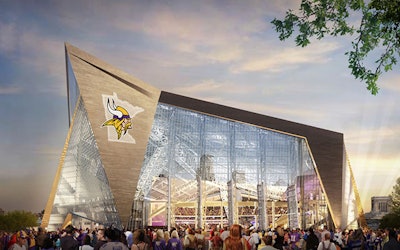 With 200,000 square feet of glass, 95-foot glass doors and a location near the Mississippi River, the Minnesota Vikings' new stadium has been called a "death trap" for birds. Now bird lovers have new life in their attempt to have the stadium glass changed to be more bird friendly.
As the Star Tribune reports, Minnesota-based 3M Co. is working with the team on an effort to save migratory birds from fatally colliding with the stadium that is quickly rising on the site of the old Metrodome.
Vikings vice president Lester Bagley says that 3M has a film that could be used on the glass that would save the birds. "It's a test and we'll see what the test shows down the road," he says.
The new Vikings stadium, with all its glass and the world's largest transparent ethylene-tetraflouroethylene (ETFE) roof, is designed to give spectators the feeling of being outdoors, while still enjoying a climate-controlled environment. But the Audubon Society and other bird advocates have been upset that the Vikings and the Minnesota Sports Facilities Authority opted for clear glass on the $1 billion stadium, rather than dotted or textured glass.
The team had balked at the alternate glass' $1.1 million pricetag, while they invested more money into things to improve the fan experience like seating, concessions and elevators. Plus, they said the clear glass had already been ordered. Additionally, fritted glass would rob the facility of precious light and ruin the facility's environment, the team argued.
In steps 3M with its film which is invisible to the naked eye. It seems like a win-win for both the team and bird advocates, while also helping the team avoid a potential lawsuit or legislation which might require the stadium to have bird-safe glass. The state is contributing $348 million to the stadium project, with the city of Minneapolis chipping in an extra $150 million. The Vikings have upped their contribution from $477 million to $527 million.
The Audubon Society says that 125 species of migratory birds have died from flying into glass panels in the Twin Cities since 2007. Some researchers estimate approximately 988 million birds die annually from crashing into buildings.
Testing of the 3M film is expected to begin during this spring's migratory season.
RELATED: 11 Facts About Minnesota and its New Stadium Set to Host the Super Bowl