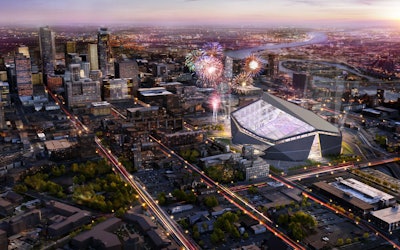 Construction of the Minnesota Vikings' new stadium might still be far from over, but the naming rights deal is done. The team announced on Monday a 20-year partnership with U.S. Bank that will give the bank exclusive naming rights for the stadium.
Construction of U.S. Bank Stadium, as it will now be known, is currently more than halfway finished and is expected to be complete by July of 2016. The Vikings will play in the new stadium for the 2016 season.
The new partners also announced that they will invest $1,000,000 in the "Places to Play" program, which is a state-wide, grant-making initiative that gives money to keep parks, playgrounds, trails and athletic facilities in good condition for children to use.
According to the owner and president of the Vikings Mark Wilf, the partnership between the Vikings and U.S. Bank is a great match and both organizations are committed to helping the community.
The partnership with U.S. Bank is a natural fit as both the Vikings and U.S. Bank are strong community advocates who care about similar charitable causes throughout the state of Minnesota, particularly as it relates to children. The Places to Play initiative is the next step in that continued commitment, and we look forward to launching the program later this year."
RELATED: 11 Facts About Minnesota and Its Super Bowl Stadium