It was the biggest football game of the year in Boise, Idaho. Brigham Young University was in town to play the Boise State Broncos before a capacity crowd on the famous blue turf at Albertsons Stadium. The nationally televised game on ESPN came on Friday, Oct. 24, 2014, with a 7 p.m. kickoff, saddling BSU athletic and security teams with the unenviable task of getting all 36,752 fans — the second-largest crowd in school history — through new metal detectors in a timely fashion.
While metal detectors are now mandatory for NFL and MLB stadiums, Boise State is believed to be the first and only major university to have metal detectors at its football stadium. Metal detectors were put in place last season as a result of a new Idaho law that allows individuals with enhanced concealed-carry permits to carry weapons on college and university campuses. (The law continues to ban concealed guns and other weapons from football stadiums and other large venues on college campuses.) The bill passed the Idaho Legislature in March 2014 and was signed into law the following July, just two months before the Boise State home opener against Colorado State.
"The legislation definitely had a bearing on tweaking our campus security program, especially at those large venues," says Jon Uda, the former executive director of campus security and police services at Boise State who retired last August. "We knew we had a crunch. We knew we had signage to put up and rewritten policies to enforce. Operations and management personnel met weekly until we got the program written, the policy developed, the procedures developed and the signage developed and in place. All these things don't happen in a vacuum."

---
RELATED:
Metal Detectors Mandatory at Major League Baseball Stadiums
NFL to Provide Metal Detectors to Stadiums
Integrating Entrance-Screening Technology in High Schools
---
PRACTICE MAKES PERFECT
Boise State did its offseason homework. To see the metal-detector system working in person, Mike Sumpter, the university's interim associate vice president for campus planning and facilities, attended a Seattle Mariners game in 2014, along with the university's contractor, MAV Event Services, which also attended an Oakland Raiders preseason game. Boise State discussed operations with stadium personnel at AT&T Stadium in Arlington, Texas, and MetLife Stadium in East Rutherford, N.J.
The university spent $190,000 on 52 mobile metal detectors (including four mobile metal detectors purchased after the start of the season) and $15,000 on 74 metal-detecting wands. All equipment was provided by Garrett Metal Detectors. Costs also included an average of $12,000 per game on screening operations.
"We set up two detectors in a room as a prototype and ran all staff through it multiple times," Sumpter says. "Then we did a couple of live dress rehearsals."
Preparation included university efforts to announce the policy changes through local media. Fans were informed not only about the metal detectors but also about a new voluntary clear-bag policy similar to the one used at NFL stadiums. "We set up express lanes if you didn't have a bag or if you had a clear bag," says Bob Carney, associate athletic director for facilities and operations at Boise State. "We encouraged our fans to bring the clear bags. Like the NFL model, we also allowed fans to bring a one-gallon clear Ziploc bag, so they didn't have to buy a brand new bag."

GAME TIME
A big test for Boise State came at the Sept. 6 home opener.
"We knew that game one was going to be our baptism," Sumpter says. "We overstaffed, actually, so that we could set up some shadowing opportunities. We really used the first game to make sure our training processes were correct and all the assumptions we made about methodology were right.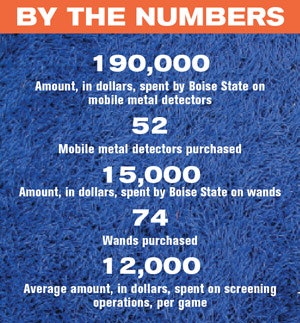 "We didn't have other college examples to look to, so we did all the diligence we could possibly do to try to figure out the best fit to our campus. That first game was very much a learning experience, but as with most things, you make a lot of progress between game one and game two."
The university had "quarterbacks" assigned to every two detectors. Wands were used at each gate as secondary screens, so if someone set off the alarm through the detector, they got "wanded," Sumpter says.
With some tweaks and some additional training, the Boise State system became routine. Sumpter says there were no recorded incidents of any guns present at Boise State football games last season. "That last half of the season, we were really moving people through there just as fast as we did when we were doing manual checks," Sumpter says. "It was a combination of our training kicking in and fans becoming trained themselves in how best to get through — probably no different than we learned over time at the airport."

MOVING FORWARD
Boise State had a total of eight college football games at Albertsons Stadium last season, including six regular-season games, the Mountain West Conference championship game between Boise State and Fresno State, and the Famous Idaho Potato Bowl between Air Force and Western Michigan.
"Our athletic ticket office sold bowl game tickets to all the local fans, and then we worked with the two visiting institutions' ticket offices to let them know about our policies and the metal-detection process," Carney says. "Whenever people were buying tickets for the bowl game, we were able to communicate that information to them so when they came to Boise State, they were well aware of what was going on."
In recognition of its efforts last season, Boise State was honored at the National Sports Safety and Security Conference and Exhibition this past July in Orlando, Fla. For Boise State, the success of the system was a team effort — from university security to local law enforcement to private contractors to the athletic department to fans.
"We were really happy with the response we got from the fans," Sumpter says. "They were really patient with us through the first couple of games. By the end of the season, it was clear to us that they appreciated that we were doing everything that was possible to ensure a great atmosphere for them at the game. We expected and relied on their acceptance of the new program as a critical factor to success, and they came through."
---
This article originally appeared in the September 2015 issue of Athletic Business with the title "Protecting Their Turf"