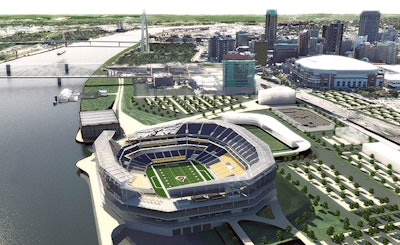 In an effort to retain the Rams or lure another NFL franchise to the city, a Missouri board approved $15 million in tax credits on Tuesday to help build a new football stadium in downtown St. Louis.
Missouri Governor Jay Nixon, along with the Regional Convention and Sports Complex Authority, proposed the new stadium along the Mississippi River to counter the Rams' possible move back to Los Angeles, where Rams owner Stan Kroenke has proposed building a $1.8 billion stadium.
As Fox Sports reports, the Missouri Development Finance Board approved the $15 million tax credit plan, despite opposition from board member and Lieutenant Governor Peter Kinder. The sports authority plans to request an additional $17.5 million in tax credits in each of the next two years, bringing the total to $50 million.
The proposed riverfront project is estimated to come with a $998 million price tag. A plan presented to the board on Tuesday laid out a way to raise another $610 million, utilizing funds from an NFL team owner, an NFL loan program, and the sale of seat licenses. Under that plan, the state would need to issue another $201 million in bonds, and $187 million in tax credits and other incentives.
Lawmakers who oppose the plan, including Representative Jay Barnes, issued a lawsuit saying that a taxpayer-funded stadium project should have approval from the state legislature.
"If you want to be responsible stewards of taxpayer dollars, you cannot move forward on this proposal as it is presented," Barnes said to members of the board.
While some members of the legislature have vowed to fight funding the new stadium, members of the board praised the plan as a boost to the economy.
"Our singular focus ought to be what's best for the economic development of the state of Missouri," said board member Reuben Shelton.