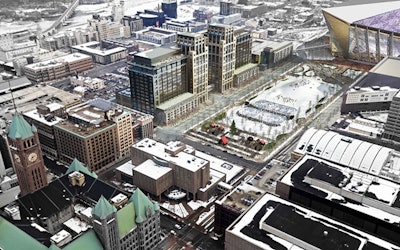 One worker was killed and another was injured during construction Wednesday morning at the new Minnesota Vikings stadium.
According to the Minneapolis Star-Tribune, Fire Department personnel rescued one of the victims from a crevice in the roof.
Mortenson senior Vice President John Wood said that the workers fell "while performing roofing work on the north side of the building." He declined to confirm that someone had died. 
"Today is an extremely sad day for the Minnesota Vikings organization and the entire stadium team," the Vikings said in a statement. "Our sincere thoughts and prayers go out to the family and friends of the individual who passed away, the worker who remains hospitalized, and the more than 1,000 dedicated construction workers who are on the site every day and are also affected by this accident."
#Vikings release statement on this morning's incident at U.S. Bank Stadium site. MORE: http://t.co/bDx4amn1Lz

— Minnesota Vikings (@Vikings) August 26, 2015