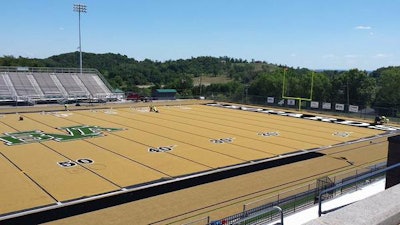 Schools like Boise State and Eastern Washington have gotten headlines for the bold color of their respective football fields.
A Pennsylvania high school is following in their footsteps.
From AB: Red Is the New Blue (and Green) at Eastern Washington
Belle Vernon Area High School got in on the colored football field gimmick, installing a gold-colored AstroTurf football field as a part of a $1.4 million renovation project. They aren't the first high school to raise eyebrows with a bold choice in field color. In 2012, West Salem High School in Oregon installed black turf.
From AB: New High School Turf Dubbed 'The Black Hole'
In addition to the $200,000 field, the school also upgraded its scoreboard and lighting.