Louisiana State University treated 60 Athletic Business Conference & Expo attendees to an all-access tour of the Baton Rouge campus's expanding recreation and athletics facilities Wednesday, culminating in a ground-level view inside Tiger Stadium, known by local fans and visiting SEC rivals alike as Death Valley.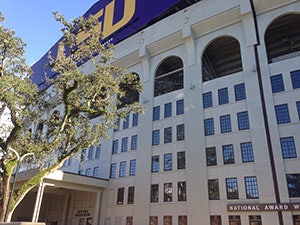 The stadium — with its towering windowed exterior (it housed dorm rooms until the mid-1980s… a clever means of securing state funding at the time of its 1924 construction, according to tour guide Katie Gerlach) and steeply raked seats — is quite possibly the most impressive spectator venue I have ever seen. I can't imagine how 102,321 fans could be any closer to a playing field.
Underneath those seats is a celebration of all things LSU football — from the so-called bowl room (with framed game programs and championship displays) to the adjacent All-Americans portrait gallery to the gameday locker room and halftime meeting spaces. There are seemingly enough mannequins decked out in LSU gear spanning the decades to field a fake team.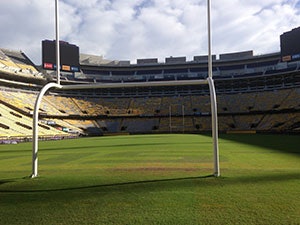 The real work of caring for the current Tigers takes place in LSU's separate Football Operations Building, where equipment manager Greg Springfellow guided us through the team meeting hall, practice locker room and full-field indoor practice facility, weight training and athletic training areas, and equipment storage and repair spaces — a labyrinth that never misses an opportunity to promote Louisiana State's enviable track record on nearly every square inch of wall space.
The athletic department tour kicked off with a stop at Alex Box Stadium, home of Skip Bertman Field and Tiger baseball. With a capacity exceeding 10,000, it is among the largest on-campus baseball facilities in the nation. Inside, the LSU baseball Hall of Fame is exemplary in its ability to communicate history through creative displays and graphics.
Earlier in the day, attendees donned purple hardhats (which they got to keep!) and explored the skeleton of LSU's ongoing recreation center expansion. Negotiating muddy concrete and exposed steel beams and conduit, the group got a raw glimpse of the center's winding, elevating track, the early makings of a social entrance stair, and a 90-foot training incline that will ultimately be surfaced with synthetic turf. The new construction will vastly add to the existing building's court capacity while taking advantage of views to a new "LSU" shaped outdoor pool.
Both athletics and recreation officials voiced what we tourists could plainly see: the Baton Rouge campus is blessed with space. We left confident that LSU knows how to make the most of it.