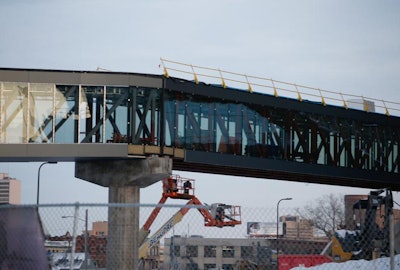 Downtown Minneapolis already has 8 miles worth of indoor skyway, but the current system is set to expand directly to the new home of the NFL's Minnesota Vikings.
U.S. Bank Stadium will connect directly to downtown Minneapolis from its far east side. When the stadium opens, fans can walk from Target Field or the Target Center to U.S. Bank Stadium in climate-controlled comfort, which will come in handy during Minnesota's harsh winters. People staying in downtown hotels will also have the ability to walk to the stadium, and be indoors the whole time.
Stadium officials have said this capability was key to attracting Super Bowl LII to the new stadium.
"To have people walk from the downtown hotels though a skyway connection to the [new stadium] is going to be very important," MSFA chair Michel Kelm-Helgen said prior to the city being awarded the Super Bowl.
Indianapolis' Lucas Oil Stadium also utilizes skyway connectivity, which is seen as a boon during the NFL Scouting Combine. With prospects, media, and team officials from all 32 NFL franchises gathering in one place, getting to the stadium easily is key.
Minnesota's skyway will allow fans similar access, without having to brave the elements.
Check out more photos of the project here.