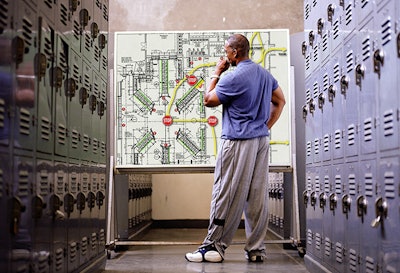 This sponsored content was provided by Facility Source. What is sponsored content?
One or two key recruits can change a program, and in this competitive "arms race" between universities, it is wise to try to gain every advantage afforded you. Creating a remarkable, well-designed space that represents your brand is one way to gain an advantage and engage a recruit. If done right, this advantage can not only sway recruits, but donors, players, fans and alumni. Adding one or two additional supporters in each of these key areas can give you an edge.
1. Audience (Teenage) Appeal
The average 18-year-old recruit rolls out of bed in the morning and flips on SportsCenter, or the NFL Network, or might reach for a gaming platform such as Xbox. That said, when you are contemplating the branding of a part of your athletics space, you need to consider reflecting the current trends in graphic design, patterns, and structure that are specifically directed to teens. Many facilities that I have visited over the years have a myriad of black and white team pictures from years ago. From a recruit's perspective, almost none of them are interested in a team that played in 1968 for instance. When it comes to making an impactful impression with recruits, you should make sure your branding is current, fresh and on the cutting edge in order to make a lasting impression. Your facility's branding can contribute to a recruit's decision to play for your program.
2. From Selfies to Social Media
It does not take long on Instagram or other social media platforms to understand that recruits today are wired into social media like never before. The primary content being shared are images that are snapped by the recruits in iconic areas via selfies. You need to create areas that are conducive to "selfie" shots and engage the recruits in a way that speaks to them. One key ingredient in a selfie is to make sure that your brand is well represented in the selfie areas that are prepared. Consider as part of the tour path pointing out the opportunities to recruits if they are not readily evident. Once the recruit has snapped a couple shots, they post it to social media and your branding has legs of its own. Best of all, your staff did not need to push the images, the recruit is doing it for you.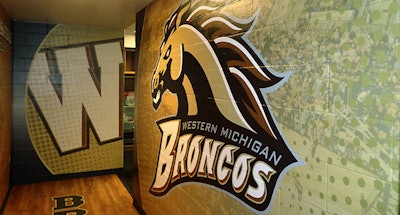 3. Define the Tour Path
Any time you are touring a recruit you have the opportunity to tell your story in a visual way. You need to ensure that you include a few key elements to have the best impact on the recruit. One way to get the most impact is to define the path that people will take when touring a recruit. In these spaces, define the key messages you desire to deliver about your program.
4. Compelling Start and Finish
The key components to a great tour are:
A) Creating a compelling start from the moment they enter your facility.
B) Closing with a remarkable finish visually.
Because of the need for that show-stopping start, you need to put significant effort into the design of the first impression on the recruits. If we can create a lasting "wow" effect right away, it sets the tone for the rest of the tour and official visit. Try to think about engaging more senses than just visual, such as audio, touch, taste, smell (or lack thereof in locker rooms), and movement. As the tour continues, make sure the materials selected for your space give an impression of permanence and strength. If the material looks cheap, it will reflect poorly on your brand. At the close of the tour, create a visual exclamation point and close with a compelling message. This puts the recruit in the best possible frame of mind as they begin to interact with the coaching staff. Consider audio and visual touches to close out a tour and appeal on an emotional level with the recruit.
5. Familiar Tech Programs
Teenage recruits today are all-too-familiar with gaming platforms, smartphones and iPads. We must consider this when looking at digital displays and content development design for interacting with recruits. Considering that most recruits use touchscreen technology in their daily lives, consider implementing touchscreens in your facilities to relate in a familiar way. The content should be similar to what you would encounter on a smartphone with the ability to pinch zoom, play videos and rotate. Another consideration with touchscreen technology is to make sure that the content driving the interaction is similar graphically to what you would see in sports gaming graphics like EA Sports. The benefits are many and this type of technology can allow for a customized user experience that is focused on their personalized experience. Technology also has the more obvious benefits of being easily changed, allows for a cleaner look and much more progressive technological feel.
---
John Hamari is the CEO of Facility Source, a facility branding firm that specializes in the "Art of Influence" when it comes to recruits, donors, fans, and alumni. View Facility Source's work and learn more about them here.