From Athens, Greece, to Atlanta, Georgia, stadiums exist to give as many as tens of thousands of people a clear view of a singular field of play. That much hasn't changed for centuries, but plenty has changed in terms of stadium design over the 40 years Athletic Business has been examining the process.
"It's changed on every front," says Ryan Gedney, vice president and senior designer at HOK. "Even on the operations side and team side, kind of what's come to be expected of team owners and the facilities they provide the players. That bar is raised on the front and back of house continually."
That's not to discount what has become perhaps the industry buzzphrase: the fan experience. Says Gedney, "It's not just about inside, but outside, and how they work together to create this kind of fan experience that provides a unique sense of discovery as a part of an event."
Here are seven key areas in which stadium design has evolved since 1977: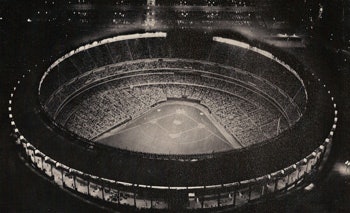 1. Dedicated designs
Early multisport "donuts" — as one architect calls them, referring to circular structures such as Three Rivers Stadium in Pittsburgh (1970-2001) and Riverfront Stadium in Cincinnati (1970-2002) — served the appetites of both baseball and football fans, but to the full satisfaction of neither.
"Stadiums of the past tended to be utilitarian structures," says Corissa Smith, vice president at Hunt Construction Group, an AECOM company. "Because they were often built to accommodate multiple sports, the sightlines and seating configurations never could quite accommodate any single sport well. As stadiums started being developed specific to a sport, seats were able to be designed dramatically closer to the field and the overall seating quantities could be right-sized to the sport."
Those first "cookie cutters" — to borrow another stale bakery metaphor — were engineering-driven solutions, according to Paul Griesemer, associate vice president and senior project manager at HNTB. "You could take what was a first-base line and swing it around to make it a football sideline. If the thing's a circle and the footprint of the section is basically the same, it wouldn't matter where you placed it. As more and more revenue came into professional sports, they realized, 'If I'm really going to generate the revenue I need, I have to have sideline-specific seating bowls.' "
Griesemer points to the Truman Sports Complex in Kansas City, which brought the NFL's Arrowhead Stadium (1972) and MLB's Royals Stadium (1973) to separate but adjacent sites. "It was the one that kind of broke the mold of the '70s," he says, adding the mindset of the time: "We're no longer going to build one thing that tries to be a Swiss Army Knife for everything and not do it well. We're going to do one thing very well, and we're going to generate an event around just this sport."
Other cities, the aforementioned Pittsburgh and Cincinnati among them, have since followed suit with their own sports districts, and the era of the multisport stadium is all but over. "No stadium built today has that kind of flexibility except for one, and that's Minnesota," says Scott Capstack, a principal and design director at Populous, speaking of U.S. Bank Stadium in Minneapolis, home to the NFL's Vikings and (for part of its season) the University of Minnesota baseball team. "Three Rivers and the donuts of the world were built for baseball first and football second. Minnesota was built for football first, baseball second — partly due to the fact that you don't have two pro teams. You have a college team versus a pro team, so inherently the pro team is going to win out in terms of the look and feel of the stadium. But especially for those sports, that will be the one-off. I doubt there will ever be a scenario where those two sports ever come back to each other."

2. Aesthetic differences
Once the divorce of professional baseball and football was final, stadium designers gained a measure of aesthetic freedom. Many look to the 1992 opening of Baltimore's Oriole Park at Camden Yards, with its throwback detailing and urban context, as the beginning of a design renaissance. "Baseball really predated football as America's game, and it is part of the core of so many communities as they were built up through the industrial revolution," Griesemer says. "There's so much nostalgia, and Camden Yards just finally realized the potential of it."
The proliferation of televised sports brought additional incentive to get creative, Griesemer adds. "As more cities started realizing that they were making an impression to the world of what their community is like through these sporting events, they realized that they couldn't just replicate the engineering solution of a half-dozen other cities," he says. "So you started to see a lot more venues opening up views of the skyline or providing some sort of reflection of the pride of the city in the venue itself."
The challenge is greater for football stadium design, according to Griesemer. "Of the football stadiums that sprouted out of the arms race of the late '80s and early '90s, a lot of the revenue for those business models was generated by parking," he says. "So you had venues parked in a sea of asphalt, and there isn't as much context to play off of in terms of what a designer can utilize as a genesis."

3. Diversity of seating
Gone are the days of ticket-buyers claiming essentially the same-style stadium chair or their personal 18 inches of a bench seat — with location the lone factor dictating price. "Forty years ago, it was about one big seating bowl and an area for the press," Capstack says. "Now it's about different varieties of suite types — not just having suites in the building; it's the variety."
A common model 20 years ago was to have like-sized suites ringing the building, perhaps with 10,000-person club spaces mirroring each other behind opposite end zones. That has given way to suites that are fewer in number and smaller in square footage but positioned in prime viewing locations, as well as an explosion of other options and price points — mini suites, field-level bunker suites, loge boxes, theater boxes, family and standing-room-only zones, and sponsored party decks where general fans can watch the action from a location other than their assigned seat. Now there may be half a dozen or more different club products in the same building. Some teams cater to ticket-holders from all corners of the stadium who pay extra for exclusive access to a field-level club that players traverse on their way to and from the locker room. Even fan concourses have been opened up to allow field views from a variety of stadium vantage points.
"You're designing for a multitude of experiences and a number of choices that a fan can have versus what historically might have been a more singular experience in the way that you come to the venue, go to your seat, watch the game and then leave," Gedney says. "It's about a much wider array of offerings, and it has a pretty big impact on what you physically design. First and foremost, it usually means less density of people in a seating bowl environment."
The result may be smaller capacities today than were seen in stadiums 40 years ago, but not necessarily smaller gate receipts. "It's not about getting as many people as possible inside the building," Capstack says. "By creating diversity of product, you may actually generate more revenue. In '77, the way teams looked at revenue streams was definitely not the same as they look at it now."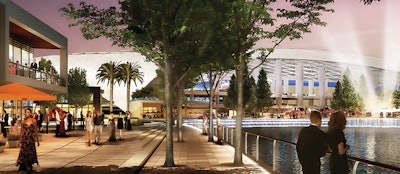 4. Foodservice infrastructure
As stadium capacities have trended downward since 1977, modern demands of doing business on gameday have nonetheless expanded stadium volume.
Hot dog stands are still a ballpark staple, but fan tastes have evolved to include gourmet and indigenous entrees. Says Michael Hart, principal at ME Engineers Inc., "This has put a big demand on the stadiums' infrastructure, requiring numerous kitchens, cooking concessions stands, and food storage and distribution areas, as well as space for food service administration and staff. This need for program space has increased the overall footprint of the facilities. So has the desire for wider concourses to allow fans more comfortable access to these amenities."
Not only are today's stadiums making room for more social spaces for fans to gather and consume, in-house destination restaurants — often open year-round — are now the norm. "All the stadiums, 100 percent of them, will have some form of marquee restaurant — whether it's a franchise brand or a brand developed by the club," Griesemer says. "It's how things are done."

5. Player amenities
As fans have grown accustomed to a higher-end gameday experience, so have the individuals providing the primary source of entertainment. Locker rooms have grown in size and sophistication, as have player lounges and meeting spaces. Says Gedney, "It varies by coach or by owner of what they believe is right, but by and large it's more square footage."
"Older stadium locker and team areas were very utilitarian," Hart says. "Today, with the rise in competition for players at the collegiate level and the rise in pay at the professional level, players expect more and may be drawn to a club based on the perceived value of players shown in the comforts provided."
"It's that wow factor of the locker room to where it's not just about their locker anymore, because they're spending so much time there. It's their second home," says Capstack. "In the pro market, some teams have caught up to the collegiate level. I would say collegiate is really the driver."

6. Beyond the footprint
Areas outside the modern stadium's expanding footprint have gained greater design attention in recent years. From pedestrian plazas to full-blown entertainment districts, the stadium projects of today are about much more than the game.
"I point to ancillary developments — retail, restaurants, bars, maybe theaters, maybe even mixed with some hotels, some condominiums, general residential — things that make what would otherwise be a six- or eight-hour gameday experience into a weekend experience," Griesemer says.
"The design process tends to start from a much broader perspective than the localized site where the physical venue sits," adds Gedney. "The majority of our projects are thinking about a district-wide impact in terms of not only its place within an urban or suburban environment, but how that event kind of extends beyond game time both earlier and later."


7. Technology
Nothing has evolved faster over the past 40 years than the technology utilized in stadiums. From 1970s monochromatic fan-o-grams with crude animation to today's full-color high-definition video displays and ribbon boards, the drive to make the stadium experience as compelling as a TV broadcast keeps accelerating. "Technology continues to leapfrog itself," Griesemer says. "Everyone wants the next biggest, best, most-high-definition video screen they can get."
Whereas the ballgame was once seen as a means for fans to escape, staying connected to their personal world is now critical. Beginning this decade, stadium Wi-Fi and distributed antenna systems became vital design considerations. "Mobile devices are a part of almost everyone's daily life today, and we expect to always be connected," says Hart. "In addition to happier fans who have access to team and player stats, facilities can use the fan access to push content to devices for game updates and facility information. Some stadiums also provide order-ahead or in-seat foodservice via cell phone."
More than one architect uses the term "future-proofing" to describe a top design challenge these days. "As designers, I think we're getting better at designing a smart chassis for technology to evolve over time — how you design today for what's coming tomorrow," Gedney says. Adds Capstack, "As much as it's not the glamorous architecture side of it, it's trying to create back-of-the-house areas large enough to handle the amount of power and data that needs to be pushed into this building — for the building to be 100 percent adaptable to any technology that comes along."
"Technology changes are still occurring at a more-rapid pace than the timeframe needed to build a new stadium," Smith says. "To respond to this, teams are waiting as long as possible to purchase technology components so the systems are the most advanced and aren't already obsolete on opening day."
Technology also extends to the methods and materials currently at designers' disposal. The retractable roof craze of the early 2000s appears to be giving way to the next best thing to being outdoors — facilities such as U.S. Bank Stadium that utilize clear ethylene-tetrafluoroethylene (ETFE) as permanent roofing material. "There is a big trend to talk about roofs, especially when you think about the architectural material choices that are out there — the ETFEs of the world — to where you don't feel like you're inside a domed stadium anymore," says Capstack. "There is definitely a massive up-front cost as well as operational cost to air-condition a facility like that. You have to factor all those costs in."
"That also plays into what context you put it in," adds Griesemer. "You almost need to put it in a venue where you can have hotels and retail around it that can benefit from a venue hosting 200 events in the bowl a year versus 20 events."
The ETFE panels at U.S. Bank Stadium were designed with the help of Virtual Design and Construction technology, an advancement credited with assisting architects in better designing stadiums for the future. Says Griesemer, "There are computer programs that allow us to design these things more in virtual reality, and in doing so sort of stretch the envelope of what engineering can do. We can be a lot more creative with materials and incorporate things like translucent roofs. We have the ability to design things that are really sort of beyond what engineering would have allowed 20 years ago."

What might the next 20 years hold? Or the next 40? Architects won't be alone in deciding the answer. "Personally, I feel that projects are generally one-third the architect, one-third the client and one-third the place that it's in — in terms of what it ultimately looks like and becomes," Gedney says. "Every client's different in terms of their focus. Some clients don't really care too much about the subjective qualities of aesthetics — it's more about the numbers — and other clients do."
At least one architect sees a further departure from the retro aesthetics of the '90s. Says Griesemer, "I think, by and large, across all venue types, there is more of an interest and willingness to drive toward a progressive architecture versus something that might be about looking to the past."
When asked if there's a way to make a stadium obsolescence-proof, Capstack is quick to point out that he and his counterparts aren't designing federal courthouses, where programmatic demands might not change for 50 or even 100 years. "An NFL stadium is a five- to six-year process from the time we start putting pen to paper until they get the keys to the building. We're designing it before we know what's coming out," he says. "As much as we use that word obsolescence, we still treat them as 30-year buildings when we're designing them, and that's the way the client looks at them. We're tying to build flexibility into stadiums so they can be adaptable to shifts in fan tastes. Some would say an NFL stadium can't be built for less than a billion dollars today, but it's even hard to say that these buildings have a 30-year lifecycle now, just because everything is changing so fast."
---
This article originally appeared in the April 2017 issue of Athletic Business with the title "Seven ways stadium design has changed." Athletic Business is a free magazine for professionals in the athletic, fitness and recreation industry. Click here to subscribe.