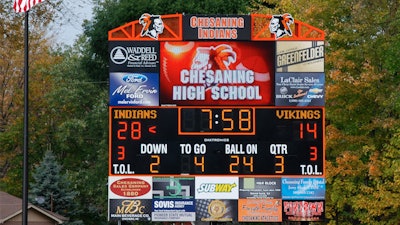 This sponsored content was provided by Daktronics. What is sponsored content?
Video scoring systems are taking the nation by storm, and more and more high schools want to be a part of it. While this technology can seem like a big investment, many schools have installed an integrated audio and video system without paying out of pocket.
Rather than viewing it as an expense, more programs are seeing the possibilities of creating an annual revenue stream through advertising and sponsorship. Today's scoreboard and video board manufacturers are not just providing a product but the means to market it.
SMALL-TOWN SUCCESS
With a population of just 2,5000, Chesaning (Mich.) High School athletic director Robert Sager knew that finding funding and support for a new scoring system would be an uphill battle.
After Sager met with the Daktronics Sports Marketing team, he was positive funding the display would work. The plan was to approach local businesses and present the video board as an advertising outlet, providing a prime spot for them to gain more attention while generating revenue for the school.
The DSM team created documents that included the events Chesaning High School would hold at its stadium along with the anticipated number of spectators at each. This information helps sponsors see the potential visibility when considering ROI.
"Our town is very small with a limited number of businesses," Sager says. "I was very concerned that we wouldn't be able to raise the funds we needed, but we ended up raising $125,000 in the first six hours!"
SUPPORT FROM ALL ANGLES
Administrators at Bradford High School in Kenosha, Wis., had their eyes peeled for a video display, but they needed one to first and foremost fit their budget as they planned construction of the school's new stadium. They enlisted the help of the Daktronics Sports Marketing team to find a solution. The first step was getting interested sponsors' eyes on what would be coming to the new stadium with renderings providing a visual representation of the possibilities.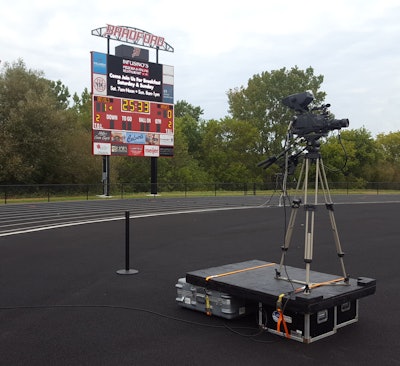 After meeting in person and sending out letters to businesses in the community, Bradford High School's principal, Kurt Sinclair, was ecstatic about the response. "We filled 13 sponsor slots in roughly 20 days," Sinclair says. "We filled our needs and even added an extra sponsor panel due to the overwhelming support."
With a bid that met their fundraising abilities and the support of the local community, Bradford High School found room in its budget and its new stadium for an eye-catching video display.
For more stories like these, visit the High School Sports Blog.
Jerry Sikkink is the Daktronics Sports Marketing Manager, helping schools maximize revenue generation through scoring products for over 15 years. The proof is in the numbers. Learn more here.