The triangular tower lofts that bookend Hyde Lounge inside T-Mobile Arena in Las Vegas are unlike anything seen before in an arena space.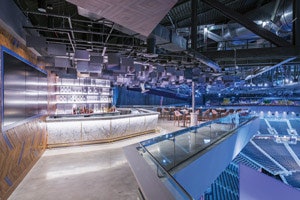 Jutting forth from their own circulation level above the upper concourse, the separately sponsored club spaces (Grey Goose and Stella Artois) cantilever over the arena's second-level seats and position spectators nearly 100 feet above the arena floor. Their wedge-shaped deck and substructure preserve sightlines to both sporting events (T-Mobile will serve as home to the NHL's expansion Golden Knights) and concerts (with staging positioned at the opposite end of the arena) — not only for fans in the clubs, but those in the seats beneath. Translucent fabric clads each substructure, allowing the clubs to be backlit with a color-changeable presentation befitting the nearby Vegas Strip. "We wanted something from an experience standpoint that was going to be really unique in the industry but also unique to that particular market in Las Vegas, where you have so much competition for the entertainment dollar," says Populous senior principal Brad Clark. "We tried to challenge ourselves to create something architecturally dramatic so that customers would have a unique place to go and experience to share. It really became a changing canvas of experiential architecture inside the bowl."
---
This article originally appeared in the May 2017 issue of Athletic Business with the title "A forward-leaning approach to arena club spaces" Athletic Business is a free magazine for professionals in the athletic, fitness and recreation industry. Click here to subscribe.