Consider the average venue operator's customer and their experience attending a live sporting event. Tip-off is in 25 minutes and they're stuck in traffic. They have to park and pick up $75 tickets at Will Call. Once inside the arena, they hit the concessions, which sets them back $50 at the very least. By the time they're in their seat, they only have half of the $12 beer they bought because of the drunk guy who rammed into them along the way. By this point, most fans are exhausted and spend the first hour of the game wondering why they aren't sitting on the couch at home with the family dog at their feet, a six-pack of their favorite beer in the fridge and the smell of homemade chicken wings wafting through the living room.
It's the all-too-common fan experience that has venue operators searching for new ways to attract people to the arena and keep them coming back.
Gerardo Prado, vice president and the sports practice leader at architectural firm HNTB, acknowledges the current state of affairs. "Obviously in recent years, with the introduction of new technology and being able to get a really good experience at home through the TV, a lot of fans say to hell with dealing with traffic and parking and very expensive tickets and food. I'm just going to stay home."
Prado cites the highly publicized decline in attendance at professional football games as a call to action for venue operators to envision new ways for fans to experience live sporting events. He says that one way of doing this is by transforming the arena or stadium itself and radically rethinking current seating options. In fact, in some of these scenarios, fans might be dancing while watching the game instead of sitting.
"What we've tried to do is look at stadiums as a collection of neighborhoods and social zones that create more interest and diversity in the types of seating offered," Prado says. "So, instead of having an upper deck that is 8,000 seats, you might have a smaller upper deck with more standing-room sections. That gives flexibility to the different teams in their pricing structures. They can offer $10 or $15 tickets for standing-room-only sections that are pretty easy to integrate, and they let fans roam who maybe don't want to be tied to the seats."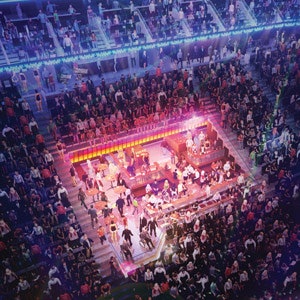 What do fans want?
Architectural firm Populous recently commissioned a report by Nielsen that surveyed a cross-section of fans who had attended at least three live games or events in the past year. What the survey found suggests the game itself is only a part of the equation and at times nothing more than a mere backdrop to time spent with friends and family. Fans now want multiple experiences at any given venue, with 9 in 10 respondents saying they would be more likely to buy a ticket that provides a unique experience in three separate locations during the event.
The implications of these kinds of insights for venue operators are staggering, involving not only a rethinking of business models but an overhaul of the seating paradigm. In most cases, a single venue must cater to fans of different sports with wildly different amenity and sightline preferences. For instance, NBA fans want courtside seats, while most NHL fans surveyed said they want a bird's-eye view of the action on the ice. How can these differing preferences be reconciled?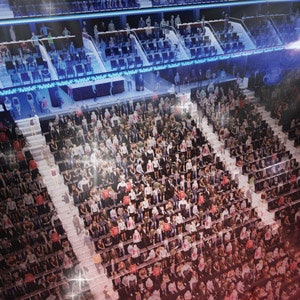 Jason Carmelo, an associate principal at Populous, hopes an innovative seating concept will allow operators to meet changing fan preferences and realize new revenue opportunities. "Flexibility is the number-one demand we're seeing in arenas right now and how to use that flexibility to get return on investment," Carmelo says. To that end, Populous is developing a concept called "transformable seating," which provides operators the best of both worlds. "It allows them to draw people to two types of environments, while only really investing in one," Carmelo says.
The solution Populous imagines involves converting an entire section in a stadium or arena to a bank of seats that when retracted gives way to a pop-up club of sorts. "You're going to retract the seats back and then you'll just need to set up the club or the stage, which can be quite flexible depending on the furniture layout," Carmelo explains. "This transformation can take place in a couple hours."
Retracting an entire section cuts down on the number of available ticketed seats, but it also allows operators new revenue streams that will hopefully attract not only new customers but new types of events to the venue. "As an operator, I'm thinking the more flexibility and the more opportunities we can create within the seating bowl, the more we can offer different ticket types, and the better chance we have of booking the top-tier shows," Carmelo says.

Let the kids roam
Families are the perfect example of a demographic that can be accommodated with the transformable seating concept. Not only are most parents minding tight budgets, they're also concerned with ensuring that their kids have plenty to do beyond sitting quietly in a seat through nine innings of baseball.
According to the Nielsen survey, one in four respondents take their families with them to sporting events a majority of the time. When they do, they want amenities that are unique to families, such as play areas, changing stations, pumping rooms and even babysitting services. As part of the Populous transformable seating solution, the firm came up with the "Family Lounger Box," a loge-level seating option that offers family-centric conveniences. Those surveyed said they would be willing to pay an average of $130 extra for this type of seating arrangement.
Perhaps most notable, this approach places a premium on space in historically low-revenue sections of the venue.
Carmelo says the real value of transformable seating is impermanence — the fact it can be changed to suit the event and the crowd. "Let's say you have a Friday evening NBA game. This could be a space for young professionals, kind of a nightclub-type experience," Carmelo says. "It could then transform for a Sunday morning matinee game into more of a family-friendly zone."

Emphasis on the experience
More modern arenas and stadiums are upending available row-seating in favor of open spaces, where the ROI is hidden in the attraction of more fans who will spend extra on additional amenities. In 2014, EverBank Field, home of the Jacksonville Jaguars, transformed underperforming seating inventory in its north end zone into a giant party deck, including two swimming pools with pool-side cabanas where guests can cool off and socialize while enjoying the game.
In Atlanta, the Braves' SunTrust Park now houses the Coors Light Chop House and Terrapin Taproom, which offers authentic Southern barbeque and a variety of craft beers brewed onsite. The idea behind these types of spaces is that the ticket becomes more than renting a two-foot-square piece of real estate from which to view the action on the field. Instead, you're paying to enjoy a few hours at a place that just happens to offer perfect vantage of the big game.
Ernest Joyner, an associate with Perkins+Will, says these types of attractions only prove out the idea that having a great view of the action is no longer the most important selling point for venue operators. "Some ticket holders today are more interested in socializing in a great environment," Joyner says. "Despite all of the emphasis on technology, we still see venues primarily as a place where people come together in physical space and interact face-to-face. Lobbies are important. Bars and restaurants are important, especially if they can be open on non-event days. Often times, groups are mixed, with some members very interested in the action, and some not so much. We try to make spaces where the group can still be a group, and those who want to watch can still watch, and those that want to talk in a corner can do that too."
Now, let's reimagine a new game experience. Our fans are once again running late because of traffic but don't mind listening to the first couple minutes of the game on the radio. After parking, they purchase $15 standing-room-only tickets on their phone during the leisurely walk from the car to the entrance. Once inside the venue, they're able to find a couple spots at the drink rail in one of the clubs, which offers a great view of the field. They order a couple of pricey microbrews (but who cares, they only paid $15 to get in, right?) and some snacks and chat amongst themselves. There are six 55-inch flat screens where they can view instant replays if the game gets interesting. They're pleasantly surprised that the space has speedy dedicated Wi-Fi, so they can check their fantasy stats and place a video call to the babysitter to say goodnight to the kids. In the end, the game is a blowout and they eventually lose interest. They decide to take a stroll around the concourse, ending the night with gourmet hot-fudge sundaes from a vendor in another club.
---
This article originally appeared in the May 2018 issue of Athletic Business with the title "Rethinking stadium and arena seating to meet changing fan expectations." Athletic Business is a free magazine for professionals in the athletic, fitness and recreation industry. Click here to subscribe.