Brand is so much more than a physical representation of a place, a team or an institution. More than just a logo, a set of colors or a mascot, brand embodies mission, character, history, legacy — and it's an emotional driver of athletics programs from the little leagues all the way to the pros.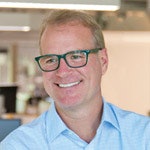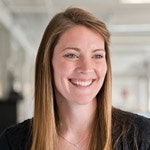 Within collegiate athletics, brand is the touchstone for athletes, coaches and spectators alike. It can bind a campus community together with a sense of pride and identity. For alumni, it's a testament that they continue to share in a collective experience and legacy with their alma mater.
The savviest athletic directors leverage brand to their full advantage and cater their branding strategies to the specific aims of their programs. We spoke with athletics departments at three institutions that attract some of the best student-athlete scholars from around the country. While these institutions seek similar ends, the means to achieving their goals differ based on their particular DNA and aspirations. Looking at Colgate University, Middlebury College and Dartmouth College, we can begin to understand how branded physical spaces can go far beyond eliciting team spirit to communicating the very essence of what their athletics programs stand for.


Colgate University
Branding experts will tell you that consistency of brand application is critically important in driving home a clear and memorable impression to audiences. For Colgate University, a school steeped in rich, competitive athletics tradition, brand consistency was top of mind as the school set out to build its new Class of 1965 Arena, which opened in October 2016. The new arena is home to the Colgate hockey teams, as well as several other varsity programs, and the Colgate brand that unites them emanates from all corners of the building. Every detail — from the Colgate helmet sculpture in the lobby to the school's "Go 'Gate" cheer printed on doorways throughout the facility to the customized door handles — reinforces that this new facility is home to a proud athletics legacy. The progression of branded elements throughout the environment builds a steady impression of this long legacy.
A testament to her tenure as athletic director at Colgate, Vicky Chun has been able to invigorate investment in athletics programs and facilities at an unprecedented level. Everyone, from administration to alumni to the next recruiting class, paid close attention to the construction of this arena. For many, this building was a signal of support and a doubled-down investment in athletics. Colgate is the smallest Division I school to offer football, lacrosse and hockey. To compete with larger peers in the Patriot League, Colgate has to be extremely targeted in investments that will benefit its cohort of stellar student-athletes, according to Chun.

"We paid attention to every detail to blend history and make the place feel like home for today's student-athletes," she says. "I didn't want it to just be our hockey players who enjoyed it. If you go through the stairwell, you'll see every sport that has won a conference championship displayed there. It's a celebration of all of our athletics programs. I want our community to own that collective pride and see it reflected back to them in this new space."
As a Division I school, Colgate is regularly featured on ESPN and has a standout sports medicine program that was recently written up in The New York Times. For Chun, the new arena signals a commitment to athletics and tells student-athletes that competition and pride in the program are as much a part of the Colgate experience as the top-notch education for which the school is most recognized.
Colgate men's hockey head coach Don Vaughan noted in a speech on opening day how proud the coaches are to be part of the new facilities project at Colgate. "What this says to coaches, student-athletes, fans, alumni, recruits and competitors is that athletics really matters at Colgate," Vaughan said at the time. "This beautiful Class of 1965 Arena and Steven J. Riggs '65 Rink will help set a new standard of pride and excellence in everything that we do."
For the 2,222 fans who can fill that arena on any given night, that message is evident in every last branded detail, and it represents a major win for the many individuals who brought this arena to life.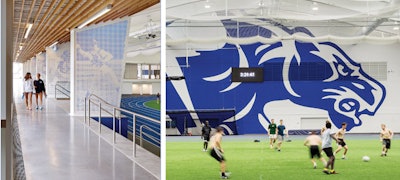 Middlebury College
Middlebury College, nestled in its namesake small town in Vermont, has long been recognized for its sterling record of athletics success. For decades, this school has been a top choice for high-performing student-athlete scholars who seek the embrace of a Northeastern liberal arts college with natural splendor at its doorstep. The school has 31 varsity sports, 34 national championships, and is a 2011 winner of the coveted Learfield Sports Directors' Cup, in recognition of its broad-based success across all programs.
More impressive than Middlebury's trophy count are its participation numbers: 27 percent of students participate in varsity sports and almost 200 athletes compete in more than one. This culture of dually rigorous athleticism and academics has over decades created an aura about the school, but its branding approach has historically been what Middlebury athletic director Erin Quinn calls "understated and homegrown," which "lets other people fill in the blanks on their own." Today, he and his department want to be far more intentional about what they communicate with their athletics brand.
Championship banners once were the most branded aspect of Middlebury sports facilities, but not so today. In 2016, Middlebury opened its award-winning Virtue Field House, which distinctively features a mural of the Middlebury Panther that spans an entire wall of the 120,000-square-foot facility. The mural is a bold display of pride in Middlebury athletics, but for Quinn there's more to the university's mission than pure competition. "While we have the visual, graphic branding to make a very strong statement about our athletics identity, we are also trying to employ non-visual branding around what we stand for — our values."
Those values extend beyond the field or the court. "It's critically important to convey that it's not just about championships at Middlebury; it's also about producing better citizens," Quinn says. "We want people leaving Middlebury College as better citizens for having participated in athletics here. We want our athletes to be present in their time here and go on to live lives of purpose, to live with intentionality."
Communicating values through branding isn't always easy, but Quinn explains that careful placement of key phrases and a streamlined approach to branding helps to announce Middlebury's competitive edge while leaving room for all the other unspoken values to manifest day in and day out within the field house walls. "That's why we said put a big panther on the back wall — because we certainly are proud of the athletics community," he says. "At the same time, we are also confident in the culture we're building here around respect, integrity, teamwork and accountability, which extends beyond what's printed on the wall. We get that, and our student-athletes get that. And we hope anyone who walks through these doors immediately understands what we're about beneath the surface."
For Quinn and his department, it's about Middlebury branding that "gets back to basics," to let culture, attitude and pride shine through.


Dartmouth College
Dartmouth College has both the privilege and pressure of living up to centuries of athletics and scholastic tradition at the school and within the Ivy League. In the late 1700s, when Dartmouth's original seal was adopted, the school's motto, "vox clamantis in deserto," or "a voice crying out in the wilderness," figured prominently. The motto has taken on various interpretations over the years, but most key in on the references to Dartmouth's uniquely remote setting and the rugged independence of the college's students and faculty. This identity carries over to almost every aspect of the school's identity — and athletics is no exception.
In fact, athletics branding hinges squarely on these same themes. Bob Ceplikas, the college's deputy director of athletics, says, "We embrace where we are and the profound sense of place that is Dartmouth. We're not in a city. We're in a really beautiful natural setting and it takes on a connotation of ruggedness and adventuresome spirit." Ceplikas knows the identity of Dartmouth College well and has seen it evolve as a 1978 graduate and 30-year veteran of the college's staff in athletics and admissions. "The student-athletes have almost organically started using the slogan, 'Welcome to the Woods,' a phrase that is even printed on the wall of their training facility."
These elements of the Dartmouth self-identity run deep and are an underpinning for new interpretations of the brand. In fact, the college rebranded just this year, updating its image for a tech-driven age. Evolution of branding at any place with centuries of history and tradition is bound to be complex, but the college and the athletics department have embraced the changes. "We are interested in keeping the elements of the Dartmouth legacy that are most core to who we are while allowing for expressions of identity to take on new forms — that's how you stay relevant," says senior associate athletic director Richard Whitmore.
Through that rebranding process, Dartmouth athletics also took key elements like the symbolic "lone pine" and embedded it into the branding system as a complement to the capital "D" the teams have embraced in recent years. "That whole idea that we're the rugged competitors from the north so watch out when you venture up here to play us — there's a symbolic connection between 'Welcome to the Woods' and the lone pine," Whitmore says. "That's what we hope comes across when you see that mark on the basketball court or on a hat." The marks show up together in many places throughout campus, reinforcing both history and future-forward thinking in efficient visual shorthand.
The strength of Dartmouth's branding resides in this careful attention to past, present and future. The school has always invested in its athletics programs and has its collective eye set on building an indoor practice facility that will represent a new opportunity to reinforce the brand. It's a brand that only gets stronger with time due to the institution's stewardship of smart branding evolution to inspire enduring pride, community and emotion in generations of Dartmouth graduates.

Schools like Colgate, Middlebury and Dartmouth have sterling reputations for good reason. They are powerhouses on and off the field, and their athletics programs emphasize cultures that breed good citizenship and ethics in every one of their athletes.
Each school invests heavily in its brand, carrying that brand strength into consistent and bold branding of physical spaces to convey the key elements of the school's identity. They recognize these facilities as key differentiators in attracting the best student-athletes and engaging alumni in an ongoing relationship with their alma maters. And though these institutions care about similar outcomes — driving competitive sports programs forward while cultivating well-rounded people at the same time — they approach branding from their own unique perspectives.
Branded athletics facilities are an important element in conveying the aspirations of an athletics program to all visitors, and they become the settings for instilling team values that live on well beyond graduation. In this way, branded facilities function not merely as structures of masonry, steel and glass — they become a convergence point for legacy, present ambitions and future potential. Done well, a branded athletics facility can unite students, alumni, athletes, parents and the broader community to share a common understanding of — and pride in — the unique elements of a school's identity. While not as tangible as the materials that make up a building, the emotional power of branding connects mission and legacy, breathes life into spaces and sustains the spirit of an institution for generations.
Powerful branding
No longer an afterthought, branding is now at the center of new facility design. Modern athletics facilities are expected to speak for the institution, clearly communicating for all who enter the school's legacy and cherished values. The results are impressive stories told through the use of modern materials, bold graphics and brilliant colors.
Here's a look at how some school have approached branding in their facilities.
---
This article originally appeared in the July|August 2018 issue of Athletic Business with the title "The power of BRAND in the culture of ATHLETICS." Athletic Business is a free magazine for professionals in the athletic, fitness and recreation industry. Click here to subscribe.