This content was provided by Eaton's Ephesus Lighting. What is sponsored content?
For more than 50 years, sports lighting was pretty simplistic for facility operators. You had one choice and it offered very little functionality. Facility operators became accustomed to the limitations of metal halide lights and worked around the inconveniences. Everyone was "happy," or so they thought. And then in 2012, LED sports lighting was introduced, and the expectations of sports lighting changed forever.
Facilities immediately benefited from the switch to LED sports lighting with improved visibility, the elimination of maintenance and on average, a 75 percent reduction in energy costs. However, there were new problems. For some smaller arenas, the cost to get all the functionality was beyond their budget, while many others suffered from "F.O.M.O." – fear of missing out - when new features and functionality were developed.
---
LIGHT, REVOLUTIONIZED: View More From This Series
---
That has all changed with the advent of the new Ephesus Lumadapt system, the industry's first adaptive fully customizable LED sports lighting and controls system. Lumadapt allows facility operators to buy what they need today and then remotely update, adapt and expand the system as their needs change and new technologies and features become available. Think of it as a laptop or cell phone, downloading product updates and new apps as they are developed.
Among those that benefit most from Lumadapt are multi-use arenas that host a variety of events from basketball and hockey to concerts and monster truck shows. No longer would these venues need to bring in temporary lights or have different sets of light fixtures for every event. Now, with the push of a button they could go from basketball to hockey lighting.
"Ever since we introduced the first LED sports lighting solution in 2012, we continually hear the concern from facility operators that they're afraid to commit to a new LED sports lighting solution," said Mike Quijano, Director of Business Development and Product Marketing of Eaton's Ephesus Sports Lighting. "Their concerns are either that they don't currently have the resources to buy all of the functionality they will want, or they fear something better coming along next year. That's why we offer smart fixtures that allow our customers to benefit as we innovate."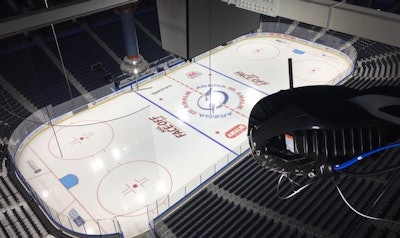 Now that "future-proofed" adaptable LED sports lighting has arrived, here are four concerns that facility operators no longer face when evaluating the benefits of switching to an LED sports lighting solution.
1. BUDGET CONSTRAINTS will not allow me to purchase the complete functionality I will eventually need.
Adaptable LED sports lighting offers customers a suite of a-la-carte features and functionality. This allows them to buy an LED sports lighting system and then add features as they are needed or as budgets increase. Some facility operators have also indicated that they will be able to invest their energy savings for added features and functionality. A few of the options that are available include RGBA color, beam tuning, color temperature tuning, remote health/status monitoring and a dynamic scene builder with the capability to make personalized lighting scenes.


2. EVOLVING TECHNOLOGY will make the system I buy today antiquated by the time it is installed.
Many current LED sports lighting systems are simply a string of independent fixtures that are only connected via the in-house control system to turn the lights on and off. An adaptable LED sports lighting system is designed with an intelligent cloud data approach that connects the entire system, allowing users to remotely monitor system heath and upload new features, functionality and upgrades.


3. WHAT I NEED TODAY might not be what I need a decade from now or beyond.
The long lifespan of an LED sports lighting solution can be both a curse and a blessing. But with the ability to add features, functionality and technological innovations, facility operators can be assured that the system they buy today will remain state-of the-art and solve problems they can't yet anticipate.


4. WARRANTIES are expensive and never seem to cover the service or parts I need.
The ability to monitor system health and usage has allowed warranties to evolve from a quarter-century long coverage plan that treats everyone the same, to a more personalized service plan. Rather than commit for 25 years, facility operators can choose a 10 year traditional warranty and then enter into an annual service agreement if desired based upon their specific use and health of their system.
To learn more about the latest in LED sports lighting technology, visit ephesuslighting.com.
---
This article is part of a monthly series on sports lighting. View the entire series here.