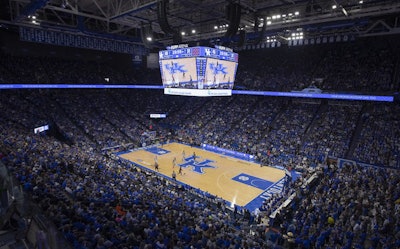 This content was provided by Eaton's Ephesus Lighting. What is sponsored content?
As the best college basketball teams compete in the most exciting annual sporting event, it has me thinking about madness in our industry. The myriad of technological revolutions in a variety of industries has facility operators faced with an unprecedented array of options to make their facilities better.
Innovations like new locker rooms or playing surfaces can upgrade the facility for the performers. Some, like more comfortable seats or the ability to order concessions on an app make the venue better for fans. Others, like a new ice rink refrigeration system can save energy costs while the installation of a new HVAC system can help lighten the load on the overworked maintenance staff.

While pleasing these audiences with specific benefits is important and improves a facility, choosing which upgrade to make is often like choosing which of your children you like best. As a result, operators typically wait for something to degrade before they are forced to make a change. That's not a good strategy, it's madness.

In contrast to these overdue upgrades, replacing a legacy lighting system – aka metal-halide lights - with an LED lighting solution benefits everyone. Performers play in perfect conditions, fans get treated to entertaining light shows, the "bean counters" love the energy savings and your maintenance staff will practically never change a light bulb again.

From the revolution happening at indoor and outdoor sports venues of all sizes, it's apparent that this message is getting through as more than one-third of major professional sports venues and thousands of college and municipal fields have made the switch to LED lighting. Additionally, prominent new buildings including Mercedes-Benz Stadium in Atlanta and U.S. Bank Stadium in Minneapolis were both built with an LED lighting solution.

Although budgets are certainly a reason why some facilities have not yet made the switch, most facilities understand the benefits for fan entertainment and long-term energy and maintenance savings far outweigh the costs. To be honest, the biggest issue we battle is still education. Despite the overwhelming evidence that LED lights are ready for prime time, too many operators are comparing solid-state lighting to mechanical lighting and worrying that when new features and functionality are developed, their new system will rapidly become obsolete.

Much of this comes from their meetings with sports lighting companies that are offering products that are basically a mechanical lighting system with an LED light source instead of a bulb. The result of their introduction to simplistic LED lighting fixtures has operators asking questions about 25-year warranties, fixture counts and foot candles instead of the most important questions: How can these lights enhance my facility, help generate more revenue by bringing in more fans, and evolve as my needs change?
Log in to view the full article