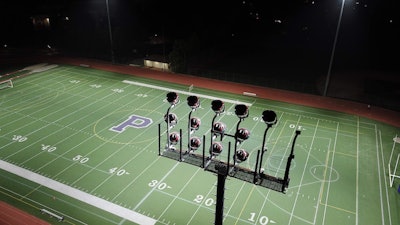 This content was provided by Eaton's Ephesus Lighting. What is sponsored content?
When Ephesus Sports Lighting revolutionized the sports lighting industry with the first solid-state lighting solution for a sports venue, facility operators had tons of questions. These questions were answered as the technology proved itself on the largest of all stages — including the Super Bowl. And from that point on, operators of facilities of all sizes realized that LED lighting was ready for primetime and the conversion to the new technology began.
Reliability, controllability, energy savings, fan entertainment and engagement and more became the calling cards of the new technology. Product evolution continued with new features and functionality as LED sports lighting quickly matured into the new industry standard. And then, suddenly people began asking about warranties — a 20th century safety net for a 21st century technology.
While a 10-year warranty became the industry standard for LED lighting, one company decided that if 10 years is good, 25 years must be better. And suddenly, some facility operators stopped comparing features and functionality of LED lighting solutions, and instead started comparing warranties.
---
LIGHT, REVOLUTIONIZED: View More From This Series
---
Here are five things to remember when comparing a warranty for LED sports lighting:
1. If the industry standard is 10-years, why would someone offer a warranty 250% longer if there was not a catch?

2. Read the warranty fine print and understand the limitations and loopholes that will void the warranty.

3. Do not assume the current usage of your lights will remain the same. All facilities that make the switch to LED lighting use their venues more.

4. The size of the company offering the warranty matters. A publicly traded company that has been in business for 100 years and has the most rigorous product testing will be there to stand by their warranty. Are you sure the newcomer or privately held company will be accountable in two decades?

5. Do not value the warranty more than the performance of the system. Choose the best system for your needs.
No other electronics product is covered by a 25-year warranty. And no other LED lighting system offers a warranty of more than 10-years because beyond a decade, the numbers just don't add up. That should make consumers ask, what's the catch? It's the fine print. The fine print in a 25-year warranty is eye-opening — it limits how much you can use the lights, it can void coverage if lightning strikes in the area, and most importantly, it only covers certain parts.
Facility operators must not get sucked into the warranty debate. You don't buy a car for the warranty, and 70 percent of consumers don't purchase extended warranties for their appliances. In fact, both the Harvard Business Review and Consumer Reports confirm that long-term warranties are written in favor of the manufacturer.
Facility operators intrigued by a 25-year warranty must understand that this cost is built into the price — it's not free. Consumers are better served with a 10-year warranty with the option to extend it with a service contract later.
The warranties longer than 10 years that we have seen are not supportable long-term, as all light heads and drivers will fail at least once and with the fine print in a warranty, you can be sure that they will find a loophole not to cover you. And are you sure that the company offering the warranty will still be operating in the year 2044?
There are plenty of horror stories out there already of facilities that thought the warranty they were sold for their LED lighting system meant that they would have not maintenance or repair costs for 25 years. For one prominent municipal sports facility, that shock came in the form of a $400,000 repair because they were exceeding the eight weekly hours of usage the warranty covered.
A longer warranty is not better for solid-state lighting for many reasons. LED lighting is an integrated solution with no commodity parts like fuses or bulbs to repair or replace. Typically, when a solid-state lighting fixture fails, the entire fixture needs to be replaced. But that's not common for well-designed and tested LED fixtures that can be expected to function beyond the standard 10-year warranty period.
Antiquated specifications like a warranty that were appropriate for HID lighting but not important for solid-state lighting have also steered customers towards remote driver solutions for LED lighting because, with HID lighting, the driver was the weakest link. But with LED lighting, built-in drivers are designed, tested and manufactured as an integral part of the system, making it as robust as any other component. It is designed to exceed the 10-year warranty under worst case conditions with no limit on usage.
Once you put the benefits of the warranty into perspective and read the fine print, you can once again shop for a solid-state sports lighting system based upon the reliability, functionality, controllability and technology that it offers.
For more information about sports lighting warranties, visit www.EphesusLighting.com
---
This article is part of a monthly series on sports lighting. View the entire series here.