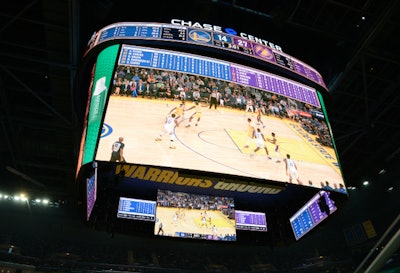 This sponsored content was provided by Samsung Electronics America. What is sponsored content?
Ensuring your display solutions deliver both long-term value and immediate benefits
Get the free guide to choosing the right LED Display.
A sports venue upgrade is an exciting endeavor. It's also a strategic undertaking requiring seasoned experts, robust resources and a hefty budget — so it's crucial your investment delivers a good return. The question is, how do you effectively future-proof your investment and ensure your biggest purchase will last for years to come? The experts at Samsung have put together a free guide to get you started. In this guide, you'll learn:
What the biggest trends in sport displays are.

What pixel pitch is and why you should care.

Why not all LED displays are created equal.

Why your next display should be HDR compatible.
Trends
Technology is advancing every day, and those same rapid advancements apply to large-scale video displays. Understanding the industry can better equip you to make long-range purchasing decisions. We can identify, track and anticipate trends in order to better inform choices. Some trends include:
Larger display sizes.

Smaller pixel pitch.

Increased usage possibilities.

The phasing out of outdated tech.
Amplifying audience experience
No matter where the consumer is in the venue, at one point or another they'll rely on displays to see certain aspects of the game — making it crucial that your screens show the best possible picture. There's no room for mistakes with refresh rate or poor pixel pitch. With ticket prices high, and good TV screens in most homes, venues have to give audiences an experience worth getting off the couch for. But venues aren't only competing with the in-home experience. When attending other sporting events in the area, fans are able to see and compare facilities. When another venue has a better display, it raises fans' expectations for them all.
Top tech considerations
Future-proofing is all about planning ahead, and that means taking into account the slew of technologies driving quality and innovation in large-scale display solutions. Buying the right type of innovative technology to fit your needs today and in the future translates to a far longer lifespan. While it can be more of an upfront cost, the ROI is compelling when you factor in the total cost of ownership over the long run. For each display, there are countless considerations in design and format. Some technology advancements you may want to consider include:
SMD vs. through-hole.

Refresh rates.

4K and HDR.

Download the full guide to discover all of the technical considerations.
Partnership
Perhaps the most important decision when future-proofing is deciding which company to work with. Often, sports venues forego expensive, high-quality displays to cut costs. There are dozens of cheap imported products out there. But what you make up for in initial savings, you lose in longevity, image quality and support. Inevitably, that inexpensive display will break, and the question remains: Will the manufacturer still be around to fix it, or will the parts still be available? More than customer service, maintenance capabilities and money in the bank, your partner needs to be innovation-minded. Technology is always improving. You need a partner who will improve with it and look for opportunities to optimize your display and make it last longer than you thought possible.
The technology shaping the live events experience has been evolving at an accelerated pace and will continue to do so for the foreseeable future. Your display is a substantial investment, and you have to make sure it will generate ROI for years to come.