SoFi Stadium — the new home of the Los Angeles Rams and Los Angeles Chargers — features the largest videoboard ever created.
Designed by HKS Architects and built by Samsung Electronics America, the 70,000-square-foot, dual-sided and center-hung structure weighs 2.2 million pounds and, according to Samsung, is the only 4K end-to-end videoboard in all of sports. The oval display features approximately 80 million pixels spaced 8 millimeters on-center, and the largest panel is about 40 feet tall. The entire board spans 120 yards and boasts a total of 260 JBL loudspeakers.
Stadium officials, however, remain resolutely mute regarding the unit's price tag.
---
RELATED: PRODUCT SPOTLIGHT: Stadiums and Outdoor Surfaces
---
"The building is very much designed around that videoboard," says Skarpi Hedinsson, chief technology officer of SoFi Stadium, the centerpiece of Hollywood Park, a 298-acre sports and entertainment destination under development by Rams owner and chairman E. Stanley Kroenke. "Part of the vision was to design a stadium that optimizes the fan experience, whether you are up high in the stadium or down low, or even in your suites. Content will be front and center no matter where you sit."
Given that the massive videoboard is attached to the roof of the 70,200-seat stadium, Hedinsson says it was among the first components designed and the last ones constructed.
Once the stadium opens, the board also will be critical in helping fans acclimate to a new normal. "As sports and concerts begin to come back, stadiums need to deliver a new kind of experience to their guests every time they step into the venue — one that provides customers with safety information and overall piece of mind," says Brett Unzicker, vice president of live events, entertainment and spectaculars for Samsung's Display Division.
---
RELATED: Find more solutions for your facility in the Buyers Guide
---
Indeed, SoFi Stadium ushers in a new era for videoboard technology. Remember when Cowboys Stadium (now AT&T Stadium) opened in Dallas in 2009 with a Mitsubishi-manufactured unit weighing 1.2 million pounds and capable of producing high-definition images that stretched from one 25-yard line to the other? Then came the Daktronics videoboard at Mercedes-Benz Stadium in Atlanta in 2017, with a never-been-done-before 360-degree halo that measures 58 feet high by 1,075 feet in circumference, for a total of 61,900 square feet of display space.
Yet despite their burgeoning sizes, today's videoboards are not intended to distract fans from the action on the field, according to Mark Williams, a principal at HKS.
"It's just like what we do in everyday life," he says. "We're using technology to enhance our experience. We're using technology to gain information. We're using technology to get connected in a different way."
"Inevitably, as technology marches on, price points ultimately come down and more capabilities are going to be possible within the budgets that facilities have," Hedinsson adds. "I think the trend is always going to be larger and higher quality."


Trickle-down effect
That trend can be seen at the lower levels of sport, too, dating back at least a decade. But recent installations at professional soccer venues, minor league ballparks, and college and high school stadiums keep upping the ante.
Providence Park Stadium in Portland, Ore. — home of Major League Soccer's Portland Timbers and Portland Thorns FC of the National Women's Soccer League — underwent an $85 million renovation that was unveiled last year. Part of that transformation included the addition of a versatile array of high-tech LED video screens and LCD displays.
Powered by digital display companies Planar and Lighthouse Technologies Limited, the signature LED videoboard in Portland stands 25 feet high, spans 76 feet and provides 150 percent more screen display area than the old board, Planar officials say. It allows plenty of room to show both replays and live action concurrently, and eight corporate partners that previously shared fixed signage on the old board now are incorporated into the digital display, according to Todd Spear, senior vice president of corporate partnerships for both soccer teams.
A secondary 46-foot-wide, 16-foot-tall Lighthouse LED videoboard with a 10-millimeter pixel pitch replaces static sponsor signage in the stadium's northwest quadrant and displays the same content as the main board for fans in a new three-tiered section of the stadium. Even the exterior of an elevator shaft has been converted to an 18-by-42-foot vertical video wall with a 10-mm pixel pitch that is used for player introductions, stats and live footage.
Perhaps the most dramatic videoboard changes, however, are happening at the intercollegiate and high school levels, where controlling displays and overseeing production are easier than ever. In many cases, one person can operate everything via a computer tablet.

"We believe the biggest factor causing the increased adoption of videoboards, especially at the high school and small college level, is the availability of better software — software that is easy to use and doesn't require a large team of people and expensive equipment to run it," says Michael Medrano, president of ScoreVision, a software company that services the scoreboard market.
Producing digital experiences for fans used to require weeks of prep work and teams of specialists to run applications before and during games, he adds. Content management, game production and video-capture software from ScoreVision and other companies has made the entire process less complex. "LED displays used to be reserved for only the largest athletic installations, but now they are a great investment for high schools and colleges due to improvements in affordability and ease of servicing," Medrano adds.
Two other factors driving investment in LED displays are the sponsorship opportunities they create, as well as the educational opportunities they present. Schools with a Daktronics videoboard that work with the company's sports marketing team generate an average of more than $50,000 per year in sponsorships, according to Kyle Sydow, high school, park and recreation market manager for Daktronics. The presence of a videoboard also allows students to make videos, create scripts and produce events.
"If you talk with professionals in the industry, they would have died to have that type of experience in high school," Sydow says. "We have stories from all over the country where a college freshman with four years of Daktronics production experience has walked into a college production office and landed an upper-level job on the production team."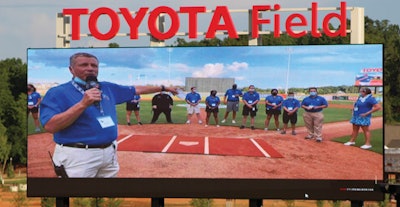 Programming and COVID-19
For the past several months, production teams at stadiums everywhere haven't been as busy as they'd like, thanks to the coronavirus shutting down sports. But some are finding alternate ways to generate revenue.
Beyond transforming venues into socially distanced movie theaters, facility operators can use videoboards for additional events such as group fitness classes, streamed concerts and outdoor learning. (See "Major League in a Minor League Setting" on page 51.)
Once venues reopen, communication with fans will be vital to keeping everyone safe and on the same page in terms of mitigating spread of the virus. "[Facility operators can] use an LED display to remind fans to social distance, wash hands and avoid things like spitting, high fives and handshakes," Sydow says, adding that because some fans may not feel comfortable returning to live sporting events, Daktronics has introduced the Big Stream package, which "lets fans see exactly what would be on the big videoboard at the field, complete with audio, animations, trivia and even sponsor advertising. We named it Big Stream because it combines the big screen with a live stream."
"This is a perfect time to look at what videoboards can do beyond showing game highlights, scores or advertisements," Samsung's Unzicker adds. "Venues can take advantage of the current climate, look at new opportunities and consider new ideas as they prepare to welcome fans back into the stands."
'Major League in a Minor League Setting'
A handful of new Minor League Baseball stadiums were slated to open this year, including Toyota Park, the $46 million home of the Rocket City Trash Pandas in Madison, Ala. Then COVID-19 hit and the 2020 MiLB season was canceled, including the Trash Pandas' inaugural campaign.
"It's hard to even put into words how we felt," says Rob Sternberg, senior director of productions and entertainment for the Class AA affiliate of the Los Angeles Angels. "So much was riding on building a ballpark, acquiring a team [the Bay Bears from Mobile, Ala.] and moving that team. Then we ran into something we had absolutely no control over. It was heartbreaking."
A major element of Toyota Park, designed by Populous, is the $540,000, 25-by-65-foot Daktronics LED videoboard in right field, designed to mimic the fan experience at much larger stadiums. The board can display one large image or multiple zones of content such as live video, instant replays, statistics and game information, graphics and animation, sponsorship messages and even fans-in-the-stands shots.
"From the beginning, there's been an emphasis to make everything as major league as possible in a minor league setting," Sternberg says. "The board definitely plays into that."
The new videoboard features 1,600 square feet of digital space and a 15HD pixel layout. Even though fans haven't been able to experience its in-game capabilities yet, the Trash Pandas have found numerous ways to give the public sneak peeks.
Toyota Park hosted the Rocket City Baseball Classic youth tournament in July, as well as baseball-centric movies ("Angels in the Outfield" naturally) during which patrons sat in the stands and on the field. The team also organized socially distant "block parties" featuring trivia, live music, fireworks and — for a "Star Wars"-themed event — "Jedi training" on the videoboard. More special events, including one to celebrate Halloween, are planned for fall, Sternberg says.
The Trash Pandas also will install a smaller videoboard in front of a party deck on the stadium's third-base side. That $100,000 unit will complement game-day content on the main display while also allowing room for additional digital sponsorship signage.
"For us, the light at the end of the tunnel is being able to use video to really affect people's experiences and help them have a good time," Sternberg says. "We've got the biggest TV in north Alabama."
---
This article originally appeared in the September 2020 issue of Athletic Business with the title "Videoboards span the sports spectrum." Athletic Business is a free magazine for professionals in the athletic, fitness and recreation industry. Click here to subscribe.