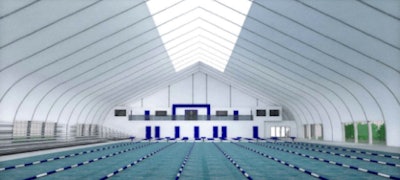 A new aquatic center coming to Boise, Idaho, will provide athletes with more competitive swimming opportunities.
The planned Greater Boise Aquatic Center will offer water resources and opportunities for safety, competition and economic impact to the area.
The Greater Boise Auditorium District has approved up to $5 million for the project to cover the cost of land and an enclosure. The balance of the project will be funded by Idaho Competitive Aquatics and the Greater Boise Aquatics Foundation.
GBAC will have an eight-lane, Olympic-sized pool and a six-lane, 25-yard pool.
The center will be focused on competitive swimming, but there's also a need for water safety instruction.
The aquatic center, to be built on Federal Way and Findley Avenue, will have a groundbreaking in October and is scheduled to open in the spring. . – KIVI-TV
Aquatic Center coming to Southeast Boise https://t.co/V18WRgrK6F

— Idaho News 6 (@IdahoNews6) July 8, 2021
The L.A. County Board of Supervisors this week approved spending $2.75 million to construct synthetic soccer and related sports fields at Belvedere Park, the largest park in East Los Angeles.
The proposed project includes replacing an existing multipurpose grass field area next to Mednik Avenue with a synthetic turf soccer field, a practice field and two new futsal courts, according to the office of County Supervisor Hilda Solis. Drainage work, fencing, perimeter walkways, and other improvements are included in the project, which is funded by Prop A funds and money from a state youth soccer grant.
The most recent large improvement at the park was in 2014. A $14.8 million, Olympic-size pool opened, replacing a decades old public swimming pool. – EastsiderLA
In Staten Island, New York, a new $2.2 million athletic complex is planned that features a turf football field, new track, long jump and triple jump pits and pole vault runways at Wagner College.
It has been nearly 25 years since the Red Raiders updated the football field and track, but the crown in the field got too big and the base of the track cracked. Repairs like new dirt and watering systems would have cost $970,000 — compared to $1.4 million just to install turf.
Wagner is making the move from a grass field to turf to cut maintenance costs like fertilizer, watering or manpower to line the field prior to each game. – MitchellRepublic.com
Extremely excited to announce that I will be continuing my athletics and academics at Wagner College! #D1bound pic.twitter.com/bHKcusA0n9

— Laurpitarresi (laurpitaresii1) January 14, 2017