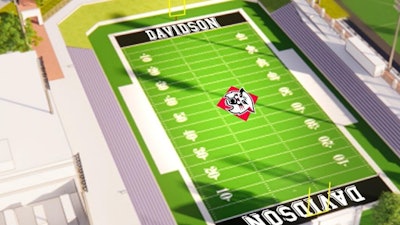 Davidson College Athletics in North Carolina announced its plans for new facilities to further enhance experiences for scholar-athletes, members of campus and Wildcat fans. The project is in the design phase, and the goal budget is $45 million. Initial leadership commitments totaling nearly $16 million have been raised to date.
Facility plans include a new stadium adjacent to the Carol Grotnes Belk Turf Field that will serve as the home for Davidson's football and lacrosse programs; a new field house, featuring a premier sports performance center equipped to serve all 21 Division I teams, along with an athletic training room, locker rooms for football, lacrosse and field hockey; and an enhanced track and field complex. The stadium will feature a new continuous seating concourse, state-of-the-art video board and improved fan amenities.
The track at Richardson Stadium will be renovated, allowing Davidson to host meets and events. It will include new locker rooms for the track and field and cross country teams, as well as create enhanced cardio fitness and wellness opportunities for the greater campus community.
Davidson hired Odell Associates to serve as the architectural firm. Depending on fundraising and design progress, construction could begin as early as Summer 2022 and is estimated to take two years to complete. — Davidson College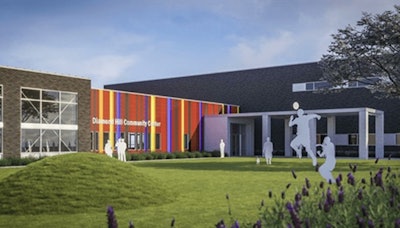 After more than 50 years, a new $10.9 million community center is coming to a Fort Worth, Texas, neighborhood. Officials broke ground on the new Diamond Hill Community Center in late September.
The new Diamond Hill Community Center will be a state-of-the-art, 25,000-square-foot community center with a gymnasium, boxing gym, teaching kitchen, fitness center, meeting spaces, game room, computer lab and more. The existing 17,000-foot center, built in the 1950s, will be demolished once the new building is complete.
The project is funded by the 2018 Bond Program and a Texas Parks & Wildlife Department Grant.
The completed center will also include a public art project by artist Elizabeth Akamatsu. A sculpture called Rising Strong was inspired by the Diamond Hill area's family legacy and celebrates the community through the concept of planting a seed, setting roots and growing a bountiful life. The proposed stainless steel sculpture includes flowers inspired by Diamond Hill's namesake and will reflect the colors of its surroundings. — City of Fort Worth
Soccer players of every skill level will have a new place to play as the City of Victoria, Texas, opens its new Riverside Soccer Complex.
The Victoria Parks & Recreation Department recently hosted a ribbon-cutting ceremony opening the new soccer fields at 1407 W. Red River St.
The 12-acre complex was approved in June 2020 after the Victoria Youth Soccer Organization reached out to the city in search of a place to play soccer. Members of the public will also be able to reserve the fields or play.
The new facility will help the city to reach the Plan 2035 goal of promoting sports tourism. The city plans to use the fields to host flag football during the upcoming Texas Amateur Athletic Federation Winter Games. — Victoria Advocate