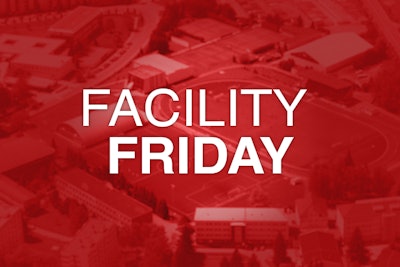 The University of Saint Joseph in West Hartford has cut the ribbon on the new wing of the O'Connell Athletic Center. A new gym, locker rooms, health services area, and fitness center are housed in the new wing.
The gym has more than twice the capacity of the old gym, and the state-of-the art addition features four new locker rooms, an equipment and laundry room, the Beekley Center for Student Health and Wellness and the Hoffman Lobby.
Work on the transformation began in early 2020. Over the past year, renovations were made to the existing athletic facility while a 31,000-square-foot addition was also constructed.
The ground floor includes the new gymnasium, which will be used by in-season teams and can accommodate 800 fans. The existing gym with about 300 seats will now be used for practice.
Coaches' offices, which were previously trailers in the parking lot, are now on the second floor, down the hall from the strength and conditioning center. A balcony seminar room, with a large whiteboard and a conference table, can be used by student-athletes from all sports and has a birds-eye view of the gym below. — We-ha.com
University of Saint Joseph Celebrates Ribbon Cutting for O'Connell Athletic Center Addition https://t.co/po8AqJBGHF

— JCJ Architecture (@JCJarchitecture) October 2, 2021
The 300,000-square-foot MidAmerican Energy Company RecPlex has opened its doors in West Des Moines, Iowa. That includes hockey rinks, soccer fields, basketball courts, athletic training area, adaptive sports for athletes with disabilities and an esports center. The idea for the RecPlex came in 2017, when local parents approached the City of West Des Moines with an idea for a new athletic complex focused on hockey. — Weareiowa.com
The $113.2 million Bakke Recreation & Wellbeing Center is under construction at the University of Wisconsin-Madison in Wisconsin. Work started in spring 2021 and is expected to be complete in 2023.
In addition to housing a 25-yard recreational pool, the facility will include the Sub-Zero Ice Arena, an indoor track, well-being services such as massage therapy and meditation, and a teaching kitchen for nutrition programs. The building complements the Nicholas Recreation Center, which opened on the southeast side of campus in 2020.
The Bakke Recreational & Wellbeing Center will be operated by UW-Madison's Recreation and Wellbeing in Student Affairs. — University of Wisconsin-Madison