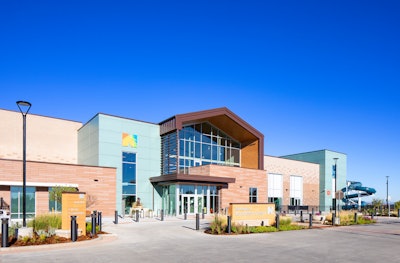 The 87,900-square-foot Northglenn Recreation Center in Colorado is a new multi-use indoor community center that includes a gymnasium, aquatics, fitness, a party room, child watch, aerobic and dance rooms, preschool rooms, a senior center and theatre. The rec center is part of the Civic Center masterplan that includes a festival lawn and a war memorial. Grand opening celebrations for the estimated $54.1 million facility took place Oct. 9. — Barker Rinker Seacat Architecture
University of Alabama Adapted Athletics in Tuscaloosa opened the Parker-Haun Tennis Facility — the only collegiate tennis facility in the nation for adapted student-athletes — with a ceremony Oct. 1. The new 3,835-square-foot facility includes locker rooms, restrooms, a trainer's room and offices for the coaching staff.
"Our champion student-athletes in adapted athletics now have a championship-caliber facility in which to train and compete," said UA President Stuart R. Bell. "Through the dedicated support of the Parker and Haun families and all who generously donated, our program will continue to set the standard of excellence for collegiate adapted athletics."
The Parker-Haun Tennis Facility will allow the wheelchair tennis program to expand wheelchair tennis clinics hosted for local children and increase awareness of the sport. — University of Alabama
College Station Parks & Recreation in Texas is planning to add eight new baseball fields. The plan is to use about $16 million in hotel tax funds to build the new diamond fields. In the coming year, construction is expected to begin on four fields at Texas Independence Ballpark Midtown College Station near the old landfill on Rock Prairie Road.
Substantial improvements are also planned for the dog park and wash station, playground and lighting at Steeplechase Park; replacement and additional sidewalks at Stephen C. Beachy Central Park; and improvements to sidewalks, drainage and lighting at Mabel Clare Thomas Park. — City of College Station, KRHD-TV