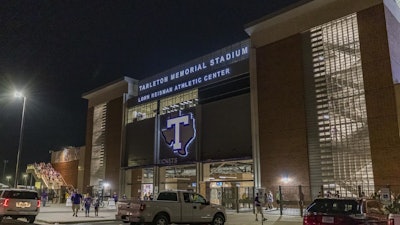 Jeremy Enlow/Tarleton Sports
In Stephenville, Texas, Tarleton State University's Memorial Stadium is expected to receive a significant upgrade over the next 18 months to increase capacity.
"The revival and sudden growth of the Western Athletic Conference has created an exciting opportunity to look beyond the FCS level and towards FBS. Our mission is to [create] a venue with anywhere between 20-25,000 (seats) brings opportunities and excitement to the Stephenville community and Tarleton State University."
Tarleton has already increased stadium seating to 16,600 for the remainder of thie season.
The expansion of Memorial Stadium will include permanent seating additions with endzone seats to connect the east and west sides of the stadium.
First look at the new renovation project of the Tarleton Memorial Stadium opening in 2018. #TheFutureIsNow pic.twitter.com/3edACwteTi

— Tarleton Football (@TarletonFB) May 7, 2017
Memorial Stadium underwent upgrades in 2004 when turf and visitor concessions were added. The lobby of Wisdom Gym got a different look since a Hall of Fame wall and trophy case were built. The Tarleton tennis courts, baseball field and softball complex have been upgraded with state-of-the-art lighting systems and playing surfaces.The stadium now will undergo a $26 million renovation to upgrade the turf and build a state-of-the-art press box and home side seating on the west side of the stadium.
In 2017, a generous donation by Hall of Famer Mike A. Myers of $2.4 million was donated to the Tarleton Memorial Stadium Renovation project in order to name the new facility the 'Lonn Reisman Athletic Center' in honor of Reisman's hard work and dedication to Tarleton Athletics. — Empire-Tribune, Tarleton Sports
The Illinois State University athletics department is focusing on a bubble dome for its long-sought indoor practice facility. A bubble dome would ease the congestion of athletes and teams using Horton Field House, which would remain standing.
During a presentation to the university's Board of Trustees in October, ISU director of athletics Kyle Brennan said his department has received an estimated cost of $11.5 million for a facility to be built on the current Redbird football practice field north of Horton Field House.
"We want to maximize our financial impact," Brennan said. "Prices are sky high right now. If you want to build a building, it's well over $30 million."
The bubble dome would be made of a "fabric reinforced with flexible composites and some translucent fabric," Brenna explained.
The facility would feature a 100-yard artificial turf surface that would allow the ISU football team to practice inside. The Redbirds currently have no indoor practice site available on inclement weather days.
Soccer, softball, baseball and track and field and golf also would have improved indoor practice space, while "other sports would have the opportunity to do its strength and conditioning work in this facility as well," according to Brennan.
Brennan told the Board of Trustees the project would be funded solely by athletics. While reporting a total of $5.17 million in gifts and commitments secured thus far, Brennan indicated $4.1 million of that total is in cash. He had announced a $2 million lead gift in March.
University High School would have access to the bubble dome, and the indoor space also could be rented out. Brennan said if the facility is rented out 40% of the time ISU teams are not using it, $384,000 per year could be raised.
The project has yet to receive full approval from the Board of Trustees. If that is granted, ISU athletics would shift from a "quiet phase" of fundraising to a capital campaign. — The Pantagraph
A groundbreaking ceremony for Price Field renovations at Westmont Hilltop Elementary School in Johnstown, Pa., took place in October at the complex.
The multimillion project will include artificial turf, new lights and an updated track that was approved by the school board in February.
Once work begins, crews will dismantle the old bleachers and move the visiting side's seats to the soccer and baseball fields at the high school.
Work before winter will include removal of the existing turf, installation of drainage and the construction of footers for a new building under the future grandstands. — The Tribune-Democrat