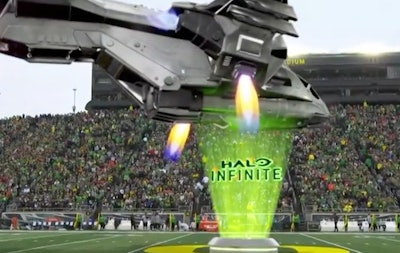 The University of Oregon wowed fans this past weekend with some high-tech thrills during halftime of the Ducks' football game against rival Oregon State.
Fans at Autzen Stadium were treated to a spectacle of augmented reality, which included the projection of a spaceship from the Microsoft video game Halo landing at midfield. The reality-bending scene was shown on the stadium's massive 12,276-square-foot video board.
For as real as it might have looked, the spaceship wasn't real and merely a melding of computer-generated graphics and reality.
The Oregon Marching Band performed sounds and music from the Halo Infinite, the latest installment of Microsoft's Halo franchise.
Oregon isn't the first to showcase the technology. Major League Baseball, as well as the NFL have implemented augmented reality in different venues.