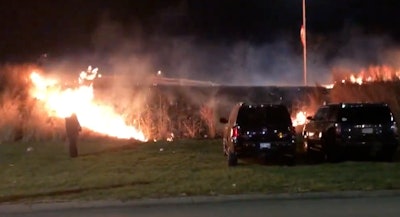 The Kansas City Fire Department Sunday night responded to a call that grass fires had started in the parking lot of the Kansas City Chiefs' Arrowhead Stadium.
The fire department wasn't sure how the fires started, but high winds helped fuel blaze.
"We prepare, train, and plan for many different scenarios like this one," Jason Spreitzer, spokesperson for KCFD, said, according to the local Fox affiliate. "Our crews quickly addressed the fire and extinguished it. No injuries were reported."
Winds in the area reached 20 miles per hour late Sunday night.
The Chiefs defeated the Denver Broncos 22-9.