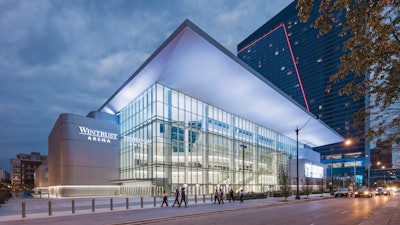 "I really do think that the multifunctional facilities are the way things are going," says Moody Nolan architect Cassandra Bukowski, who has been making sports spaces for more than a decade. In that time, she's seen the choice for a multifunctional facility gain steam, largely because of what it can do: serve many needs and make money.
"I think sometimes these midsize multifunctional arenas provide you with a lot of flexibility that you don't expect to get out of them when they're designed," Bukowski says.
In recent years, flexibility is a concept that's proved especially useful during pandemic life.
"Even projects that weren't designed as multifunctional," Bukowski says. "The Pavilion Arena at Ohio State was designed to be the home for volleyball and wrestling, but through COVID, they really capitalized on the fact that it was a smaller arena" suitable for Buckeyes basketball amid attendance restrictions. "So they didn't have to open up the 12,000-seat Schottenstein Center when no one was allowed to be in there."
Instead of finding the need for flexibility after the build, architects today point out ways in which intentional multi-use facilities can deliver more for schools, athletics programs and communities.
Planning for (drastic) variety
As architect Don Dethlefs explains, the challenge of making multipurpose facilities is that they require creating a venue that can maintain great sightlines for each and every event, even though the physical requirements and sizes of events will vary — sometimes drastically.
"Different types of events have varying space, setup, rigging and back-of-house requirements," says Dethlefs, the sports, recreation and entertainment practice leader at Perkins&Will, a firm specializing in midsize arenas and other facilities. "You must meet the needs of each without compromising the fan experience, the overall building design or the budget to accommodate one event type."
The $84 million Dollar Loan Center under construction in Henderson, Nev., will become the home of the American Hockey League's Silver Knights, but of course, that's not all the center will do. The 6,000-seat facility will house youth sports, high school and college graduations, concerts and the Henderson Symphony Orchestra.
"The venue is a very intimate facility with seating pulled close to the event floor and the action," Dethlefs explains. Spaces for unique experiences are planned throughout, including the concourse, upper and event levels. Experience spaces include interior triangular balcony terraces that project into the seating bowl from the upper concourse, providing a bird's-eye view of the excitement below. A family fun zone castle is being built in the venue to attract families and convert kids into fans at a young age. In addition, a huge exterior plaza is being constructed for community use and the hosting of a variety of activities, including concerts and festivals.
"This is an important feature, ensuring that the building is something the community can enjoy even when not attending an event," Dethlefs says.
Thwarting pushback
In Victorsville, Calif., Victor Valley College wanted to get in front of any possible pushback on a new stadium.
"They thought they would get some pushback if they just built the stadium, so they built the stadium and we combined it with, really, a conference center," says Arash Izadi, LPA's director of sport and recreation. "They call it an educational center, but it takes the stadium component and ties it to a bunch of conference spaces and things like that. So, when they sell it, they're selling it as classrooms, a revenue-generator facility, a stadium, an alumni facility.
"In Victor Valley, here's a small college, they've got a decent football team, they don't even have a track team. So how do you build that stadium?" Izadi asks. "It is something the students will use, but how do you get the community to support the idea and spend $35 million on this facility? Well, you turn it into a multi-use facility that serves more than one need."
By combining purposes, Victor Valley College was "able to go to the community and say, 'Look, we're not just building a stadium, we're a stadium and an education center,'" Izadi adds.
However, in Texas, where LPA has designed many projects from its studio location in San Antonio, things just got a little tougher when it comes to greenlighting a sports project with public funds.
"You can't really build dedicated athletic facilities anymore," Izadi says. "Sports are huge in Texas, but there's still these organized groups that are really fighting that. So there was legislation that was passed that you can no longer take bond money that's passed by school districts and spend that on athletics, unless it's specifically targeted for athletics. You can't have a combined bond anymore, you have to have a separate bond for your educational facilities."
In early November, voters approved a $1.2 billion proposal to renovate the Fort Worth Independent School District's aging middle and elementary schools and build one new school. But three other proposals had failed, including a $76 million bond to build recreational facilities and replace turf at existing athletic stadiums. Another, earmarking more than $104 million for the construction and equipping of stadiums in the district, also didn't pass, with more than 66 percent voting against the proposal, according to NBC affiliate KXAS in Forth Worth. The less-expensive but sports-focused options failed even as the higher-priced education buildings passed once they were split.
On-campus graduation with athletic benefits
Most of the time, the need for a facility stems from athletics, but at Alabama A&M University the need was a space for on-campus graduation ceremonies. But how to fund a building that's unused some 360 days out of the year?
"The main reason for their arena is not actually sports," Bukowski says. "That was a different, kind of backward process for us. Normally, we build an arena for sports, and other things will work in there, whereas that one was built around their need and desire to host graduation on campus, and not having any place to do that. Graduation is a really, really big deal for them."
To utilize the facility outside of graduation ceremonies, Alabama A&M would move the competition center for basketball and volleyball from its aging facility and into a multipurpose event space that could also house graduations.
"So it was like, 'Okay, we're going to move basketball and volleyball over here to this arena, as well,' " Bukowski says. "Their home team locker rooms are there, they will have a weight room over there, training spaces, treatment, to allow them to use the space as their new home where they'll be able to compete and train." Moreover, the administrators' suite is in the new University Event Center, along with a cooking kitchen for concessions and events on the floor, allowing the venue to be rented out for banquets.
Another of Bukowski's projects, the Wintrust Arena at McCormick Square in Chicago, is mostly a space utilized by the Metropolitan Pier and Exposition Authority, which owns McCormick Place, the largest convention center in North America.
"It was really an arena for the MPEA to do events, concerts, keynote speakers, wrestling," Bukowski says, adding that the venue has doubled as a 10,387-seat home arena for DePaul University's men's and women's basketball since opening in 2017.
Creating modern sports spaces that can get the bills paid and serve multiple needs is a balancing act.
"A building that is trying to accommodate too many uses can quickly become multi-useless," says Dethlefs, who recommends understanding the most important functions and design the building to accommodate those.
The challenge in making multi-useful sports spaces is well worth it, according to Bukowski.
"They're very flexible and able to do a lot of things that aren't necessarily the original intent," she says. "But you get into them and you're like, 'Oh, we could really do this with it too.' So, I think the multifunctional arenas, they're just extra flexible, and it really allows you to do a lot of things with them."